Disney and Pixar's Turning Red, now streaming exclusively on Disney+, introduces audiences to 13-year-old Mei Lee, a dutiful daughter, faithful friend, and stellar student. Her life is upended when she starts poofing into a giant red panda whenever she gets too excited.
The idea for Turning Red comes from Academy Award®–winning director Domee Shi. "It's a coming-of-age story," Shi says. "It's about a girl learning how to grow up and navigate changes to her body and changes to her relationships with her mother and her friends." The only way she can turn human again "is to take deep breaths, calm herself down, and control her emotions. It's kind of like The Incredible Hulk, but cuter."
To bring her vision to the screen, Shi assembled an all-female creative leadership team—the first in Pixar Animation Studios' history—that includes producer Lindsey Collins, visual effects supervisor Danielle Feinberg, production designer Rona Liu, and associate producer Sabine Koch O'Sullivan. Shi calls the distinction "an honor," but says, "Hopefully we are one of many to come."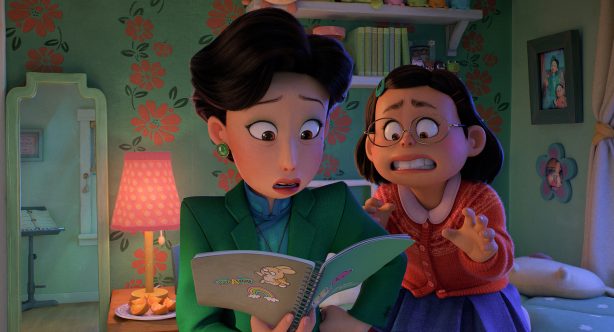 "I've been surrounded by incredibly talented women throughout my career at Pixar," adds Collins. "It's not surprising that we landed a team of women at the top, but it was incredibly exciting." Being part of Pixar's first all-female leadership team—one that crafted a complex mother-daughter story, no less—"inspired something unique in all of us," she says. "That spirit of pride, excitement, and fun shines through in the movie."
"Domee has an energy to her that I find really engaging. She's an engine," Collins says of her collaborator. "She moves fast; she's super decisive. She brings an unexpected and unapologetic quirkiness to her storytelling, the stylization, and to the entire film."
Turning Red provided new opportunities for many women, including Feinberg. "Even though this was my first film as a visual effects supervisor, finding the look of a film is a comfortable place for me, since I came from directing the lighting on WALL-E, Brave, and Coco," she says. "But being the first woman in 20 years to hold this position at Pixar, I was determined to use every skill I had to be successful and [honor] the movie."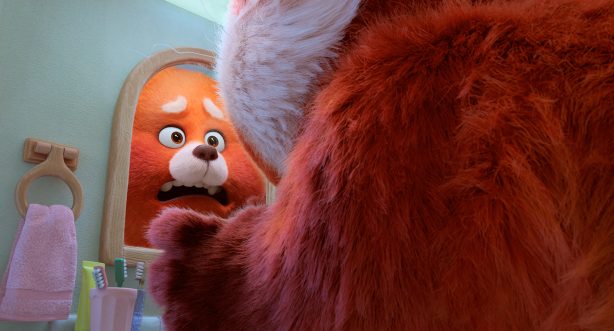 Having Shi at the helm inspired many artists to follow her lead and add personal touches to the film. "Domee encouraged me to tap into my own feelings of growing up with my mom," Liu says. "For some of my early sketches, I looked at photographs of my mom, and those actually inspired the photos you see in the opening of the film."
The all-female leadership team's inspirational, magical dynamic is further chronicled in Embrace the Panda: Making Turning Red, now streaming on Disney+. With exclusive behind-the-scenes access to Shi and her core leadership crew, the documentary feature shines a light on the powerful professional and personal journeys that brought the incredibly comical, utterly relatable, and deeply heartfelt story of Mei to the screen.