As Executive Vice President of Physical Production for Marvel Studios, Victoria Alonso is part of every film that is released, from initial story concept to the last visual effect. "Kevin [Feige, Marvel Studios President] and Louis [D'Esposito, Marvel Studios Co-President] dream it, and I make it happen," Alonso laughs, quickly adding that by "I" she's truly referring to the departments and creative teams that she oversees from the earliest stages of production design to shooting the film and through post production and visual effects, navigating challenges both big and small in the ever-expanding Marvel Cinematic Universe. A new Super Hero makes his cinematic debut today, Friday, November 4, and Alonso proudly says, "Doctor Strange is one of the most technically complicated movies that we have ever done. We go to all kinds of places that you have never seen before and that were incredibly difficult to shoot technically."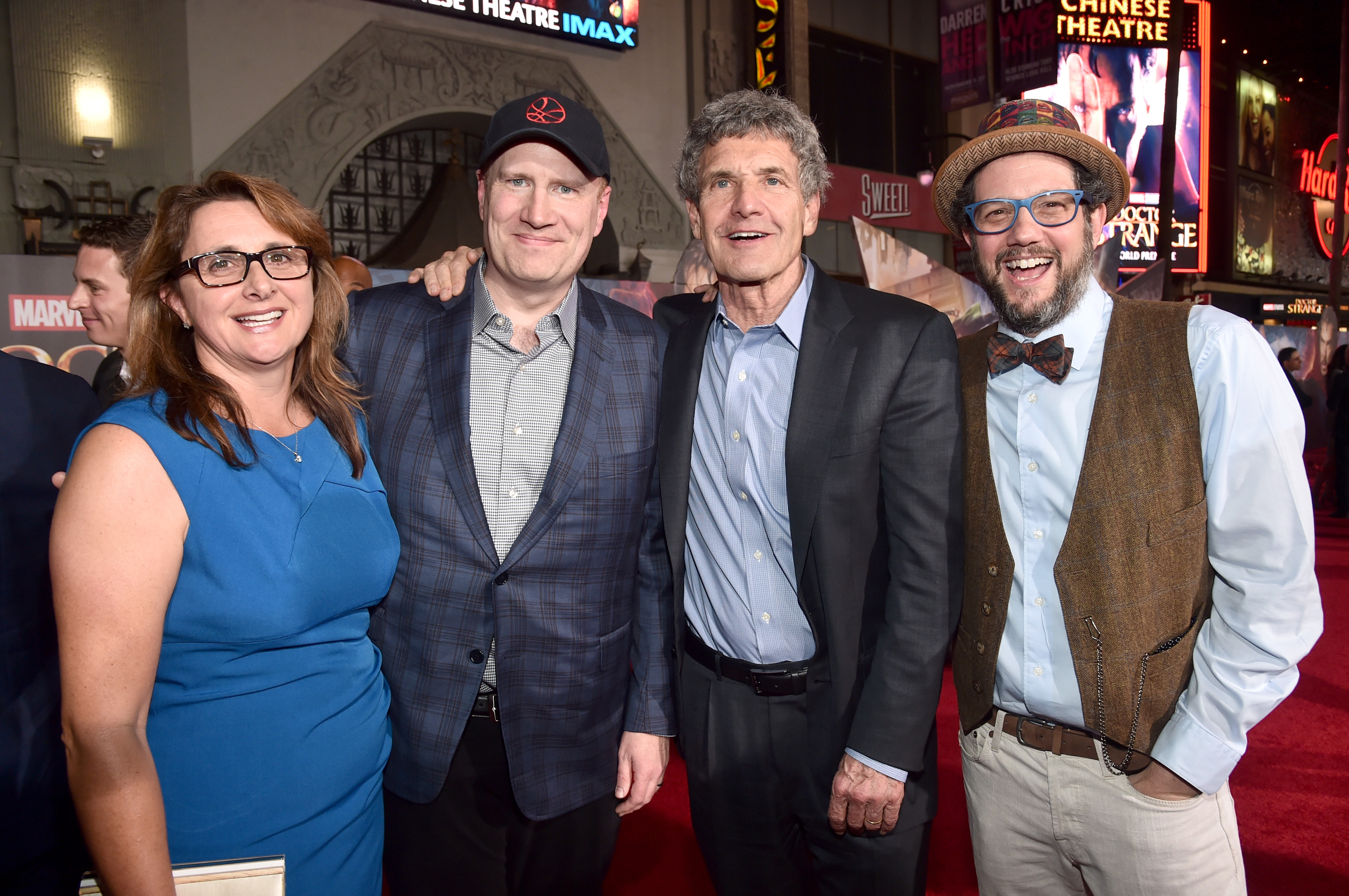 (L-R: Alonso with President of Marvel Studios/producer Kevin Feige, The Walt Disney Studios Chairman Alan Horn and composer Michael Giacchino)
Creative innovation is part of what drives Alonso, who began her career as a commercial effects producer at the nascency of the visual effects industry. "I've always been interested in technology. What you know at 8 a.m. in the morning is perhaps quite different at midnight on that day, so you consistently have to stay on your toes, stay open-minded," she explains, adding, "It's not if change is coming. Change will come and you have to be ready."
The importance of technology cannot be understated in bringing the Marvel Cinematic Universe to life on screen, Alonso shares, but she stresses that story must come first. "That's what we bow down to on a daily basis," she says. "Everything else falls to the side." There's no perfect formula for Marvel Studios' success, according to Alonso, but there is an incredibly committed team of people. "People that have been here from the beginning, like Lou, Kevin and myself. We are the through-line in all the movies." She adds, "A lot of our films are a single thread of one big sweater."
Though she's been with the company for 11 years, Alonso still feels like a relative newcomer to the Marvel Universe alongside Kevin Feige, who has been a devoted reader of the comics since his youth. She sees that as an advantage for the studio. "In order to get new fans, you want to make sure that you reach them. I'm always that person. I always say, 'Give it to me as if I have never seen anything Marvel-related.'" Of course there are Easter eggs for the super fans, but Alonso stresses that Marvel films should be for everyone. "That's the longevity of the form. If you don't get new fans, then you will never have longevity," she says.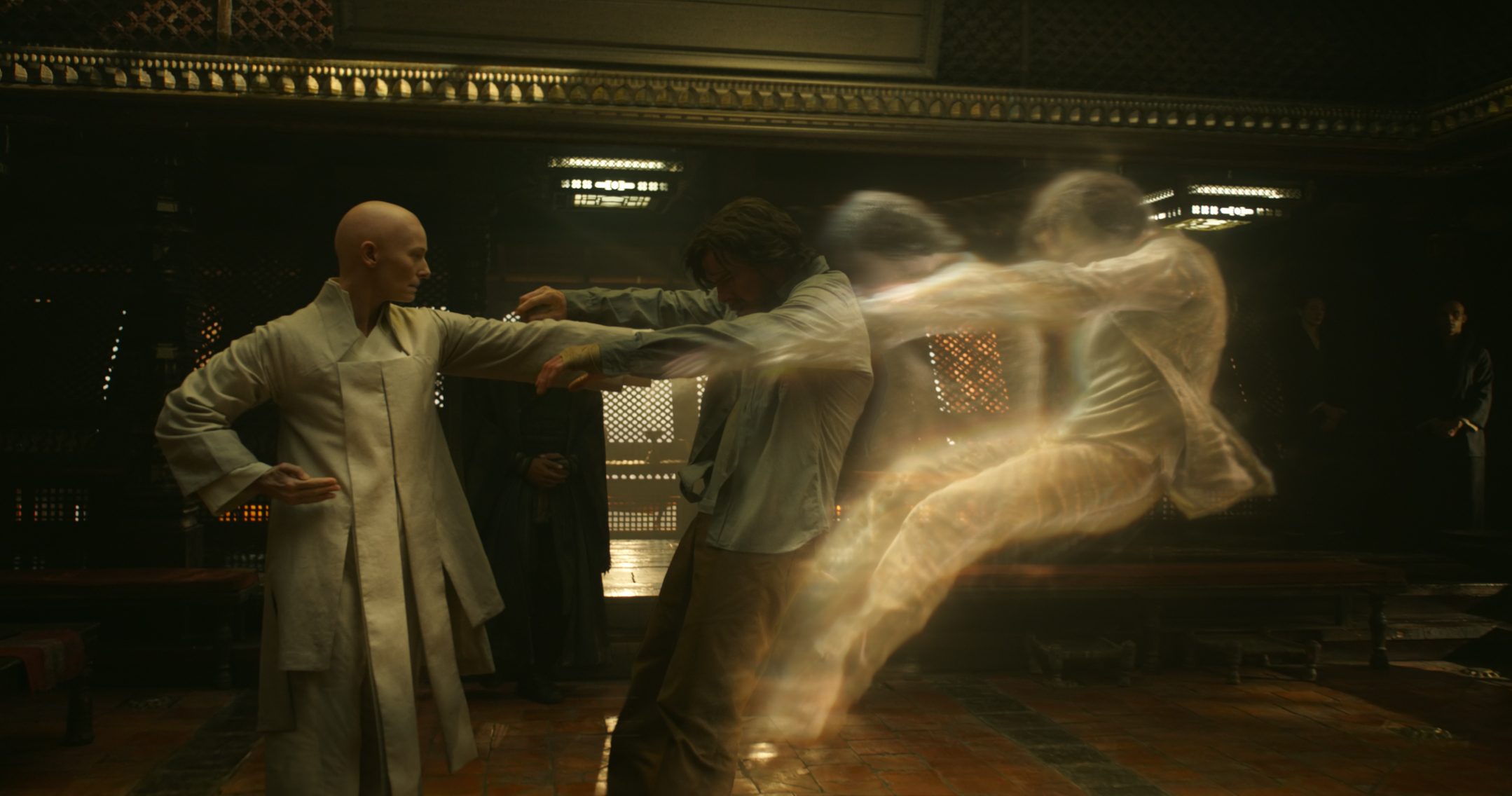 Growing up in Argentina, Alonso dreamed of becoming a veterinarian; comic books and computers simply weren't part of her life. But she loved going to the movies and would stay to read the credits, looking for female names. She remembers, "There was always this one name, Kathy Kennedy. And so I looked up to that name and I thought, 'Well, if there's one person who did it, maybe it's possible.'" When Alonso eventually met Kennedy, now also a part of The Walt Disney Studios as the president of Lucasfilm, she says, "I told her that story, and I told her how much she had done for women everywhere in the world." Alonso acknowledges that she, too, may now be making a similar impact on young moviegoers, and she readily offers advice and words of encouragement to women embarking on their own careers in filmmaking. She states, "I have always tried to lend a hand. It's not a handout—a handout is very different than a hand-up."
This spirit of mentorship was very much a part of the recent "Marvel Studios' Doctor Strange—The Magic of STEM Challenge," which sought to inspire young girls in grades 10–12 to think of their favorite, or most vexing, scientific or technological question and then work with a mentor to explore the mysteries behind their questions. The topics the teen girls covered ranged from noninvasive, glucose-monitoring, wearable biosensors to computer vision software.