Marvel Studios' Eternals, in theaters November 5, presented an important opportunity to include the deaf and hard-of-hearing community in Disney's ongoing work to make content accessible for audiences. In addition to a diverse team of heroes, Eternals features the first superhero in the Marvel Cinematic Universe (MCU) who is deaf, played by an actor who is deaf.
Disney worked with exhibitors to provide onscreen captions in theaters; had an open caption premiere with American Sign Language (ASL) interpreters staffed throughout; and hosted screenings for organizations supporting the deaf and hard-of-hearing community. The Eternals superhero Makkari is played by Lauren Ridloff, who is using her platform to share the impact her super-powered role has on the MCU and the future of the film industry.
In the U.S., open caption trailers were created to introduce this new team of heroes. Targeted campaigns and activations with influencers from the deaf and hard-of-hearing community as well as the Black ASL community were promoted on social media to provide a more inclusive experience. Plus, a special greeting from Ridloff introduced Eternals as it was screened for audiences across the U.S. Ridloff also hosted a Q&A session with the Gallaudet's Center of Black and Deaf Studies in addition to sharing insights about her role as the super-fast Makkari: "There is now a lot of discussion about creating new signs for the MCU—name signs for characters. Sign language possess space within that incredible fantasy world of superhuman skills and abilities. We are now part of that Super Hero vernacular."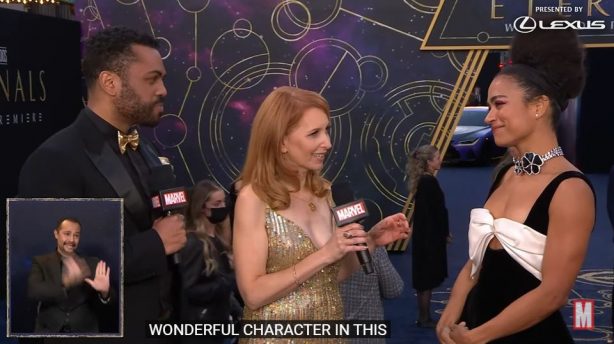 Marvel Studios consulted RespectAbility, a disability-led nonprofit, to create accessible marketing materials and host an inclusive premiere to debut Eternals. This Hollywood event featured an open caption screening with onsite ASL interpreters at the El Capitan Theatre and was live-streamed with ASL interpreters in a Picture-In-Picture box for viewers at home. Commenting on the impact of these initiatives, RespectAbility said, "Marvel Studios has demonstrated a clear commitment to elevating the moviegoing experience in a way that is inclusive and accessible to everyone. This was in abundant evidence not just with respect to Eternals, but also through its support for expanded open captioned exhibitions throughout the industry and recognizing that the 430 million deaf and hard-of-hearing people around the world represent a global consumer market that is well worth their attention."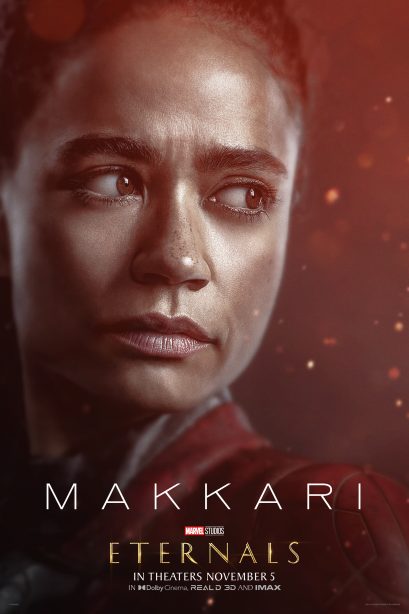 This set the stage for exhibitors, including AMC Theatres and Regal Cinemas, who announced their commitment to onscreen captioning not only for Marvel Studios' Eternals but also for new movie releases across multiple regions.
Global initiatives are supporting accessible experiences and engaging audiences around the world. Nineteen international markets are holding open captioned theatrical showings, and special events like the virtual red carpet interview with celebrity and activist Miss Deaf Thailand are sparking conversations about the global impact of the first superhero in the MCU that is deaf.
All of these efforts will allow more diverse groups of families and friends to enjoy accessible content together.