Calling all aspiring Jane Fosters: The Thor: The Dark World Ultimate Mentor Adventure begins this month as Marvel Studios teams up with UL (Underwriters Laboratories), Dolby Laboratories, the National Academy of Science, Girls Scouts USA and the El Capitan Theater Hollywood to inspire young girls to explore future careers in science, technology, mathematics and engineering—just like the Marvel film's astrophysicist heroine, played by Academy Award®-winner Natalie Portman.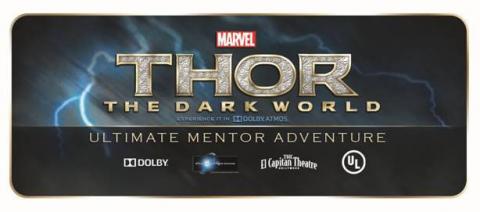 The nationwide program challenges girls ages 14 and up, in grades 9–12, to seek out and interview successful women in STEM career fields (Science, Technology, Engineering, Mathematics) to find out what they do, how they developed their careers and how to follow in their footsteps. As part of the Ultimate Mentor Adventure, each applicant will create a five minute video capturing their interview experience, and 10 lucky winners will head to Los Angeles to go behind the scenes with scientists and engineers at Dolby.
This one-of-a-kind program provides the opportunity for those in the science and technology industries to connect with and help young girls successfully navigate the path to a STEM career. As Victoria Alonso, EVP, Visual Effects & Post Production, Marvel Studios, explains, "Marvel's Thor: The Dark World Ultimate Mentor Adventure is a chance to inspire a generation and by doing so, to change their future—and ours—for the better."
For more information, click here.