The warrior at the center of Walt Disney Animation Studios' newest film, Raya and the Last Dragon, is brave and resilient; Sisu, the titular dragon of legend, is also a bold hero in her own right, filled with optimism, hope and a disarming sense of humor. These strong women have been brought to life in the film—which is in theaters and on Disney+ with Premier Access this Friday, March 5—by a talented team of writers, artists and technologists anchored by women leaders who are pretty inspiring themselves. Produced by Osnat Shurer, Raya and the Last Dragon was developed under the leadership of Disney Animation's Chief Creative Officer, Jennifer Lee; with co-writer Adele Lim, head of story Fawn Veerasunthorn and co-head of animation Amy Smeed among the women leading the creative charge. Additionally, the film boasts an all-female technical leadership team led by technical supervisor Kelsey Hurley, and associate technical supervisors Gabriela Hernandez and Shweta Viswanathan.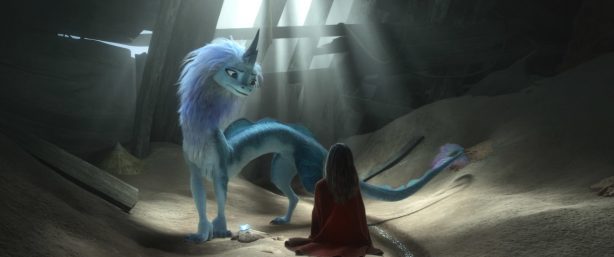 The creative, technology and production leads on Raya and the Last Dragon were the best in their areas, Shurer states, and she believes that diversity in leadership "behind the camera" at Disney Animation is essential. She praises the studio's efforts to increase representation on its films, noting, "The more people of different genders, backgrounds and ethnicities are in the room, the more of ourselves we'll see on the screen, which is incredibly exciting. There is so much we can learn from each other, which in turn serves to deepen our empathy for one another, and our ability to all work together, embracing our unique contributions, to make a better world. What could be a more timely message?"
The technical leadership team oversees all technology needs for the film, ensuring the artists have the tools and technical resources they need to achieve the directors' vision. "Our job is a bit behind- the-scenes but just as important," Hernandez says. "It feels nice when that comes across in the artists' gratitude when working together."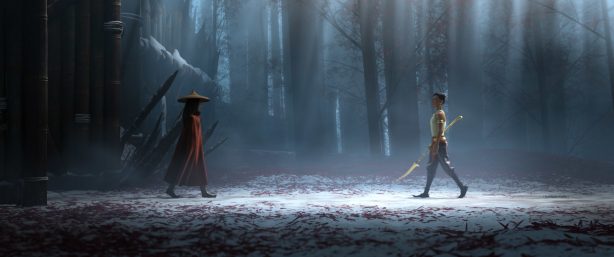 "As technical supervisor, it's my job to ensure we have everything we need from a technical standpoint to create the film. This ranges from making sure we have the tool sets needed, to making sure we have enough render capacity and disk space," Hurley explains. Along with Hernandez and Viswanathan, the women lead a team of technical directors (TDs) who provide troubleshooting support for artists as well as develop new tools for them.
Raya and the Last Dragon takes viewers to the fantasy world of Kumandra—whose five lands are all filled with their own distinct cultures and creatures. "Each has a unique look and feel, and one of the challenges we faced was representing how large this world really is," Hurley explains. "Raya brings together all the technologies we've created over the last 10 years together. Using Hyperion (our in-house renderer) that we first saw on Big Hero 6, fur simulation made for Zootopia, water tools from Moana and an upgraded volumetric system and environment toolset from Frozen 2, we are able to showcase a large world with a diverse set of characters and landscapes."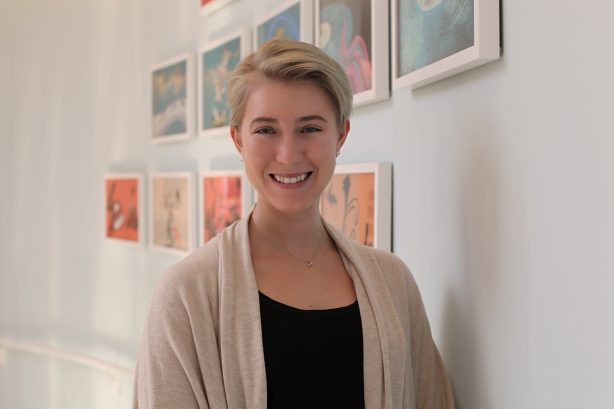 While the technologists were able to draw from previous films to inspire innovations on screen in Raya and the Last Dragon, there was no reference for the shift they had to orchestrate when the pandemic forced production to continue remotely. "The entire team had to hit the ground running. We're fortunate that our studio already enabled us to work from home to promote work-life balance. The main problem that needed to be solved was with regards to scale—we never had the entire studio need to log on at the same time before," Hurley recalls. "Within just two weeks, we went from needing to have a rotation for when artists could work, to enabling the entire studio to log on all at once. The technology team at Disney did quick, amazing work which let the movie continue without missing a beat."
Hurley describes being part of an all-female technology leadership team as "an incredible experience. Not long ago our TD department only had a few women, and now we're at about equal gender representation in the department and in leadership," she says. Viswanathan concurs, sharing, "I feel fortunate to have joined Disney, and honestly to have started working at a time where there isn't a lot of emphasis on my gender, and my success and advancement is purely based on my merit."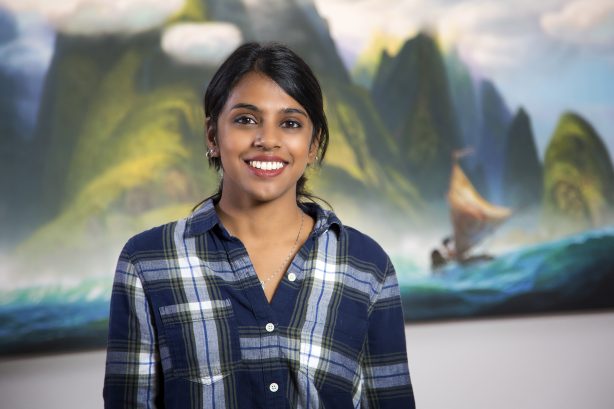 As Hurley, Hernandez and Viswanathan have grown in their tech careers, they praise the studio for fostering an environment that's collaborative and rich with opportunities to learn from their fellow employees. "There are still some days where I wake up and I am just so stunned to work here alongside folks who made the movies I grew up on, folks whose works we studied in CG courses at university," Viswanathan shares. "And now, nearly a decade later, I feel so blessed to be able to be here and make my own mark here. The studio truly is so collaborative, nothing is about the 'I,' but rather how 'we' can all work together to bring the movie to the world."
Hernandez is grateful to her fellow technology leads for their mentorship and partnership in making Raya, and tried to pay that forward on her own team. "It was my first time being a supervisor, and Kelsey and Shweta always had my back. They trusted me, gave me the space to find my voice and style, and were there if I ever needed them. We grew together," she says, adding, "I hope the team feels the same. It was very important to me and was one of my goals to give the TDs the best opportunities to grow and shine, too."
"It's inspiring working with all the artists and technologists in the studio," Hurley says. "As someone with a computer science background, I love seeing our work translate to making a movie." The technologist says she always had an interest in art and computers, but only discovered while she was in college that it was possible to pursue a career that combined the two seemingly disparate fields. "While I love art, I'm not a strong artist, so when I found out that this job acts as a bridge between art and technology, I felt like it was the perfect fit," she notes.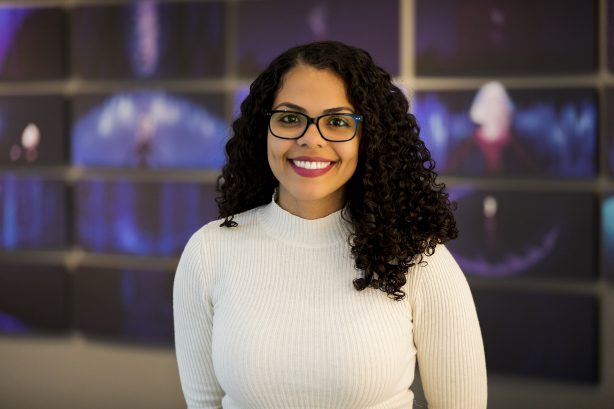 Hernandez also discovered computer science in college. "That's when I realized that I love problem solving and creative environments. Being a TD at Disney is perfect for that. Every day there's a new problem to solve," she recalls. "Growing up as a Dominican girl from The Bronx and watching Disney movies, I never imagined I would be working at Walt Disney Animation Studios."
When asked what words of encouragement she has for women who are thinking of pursuing a similar path in animation technology, Hernandez urges, "Don't be afraid to speak up and take up space. Believe in yourself. We, too, deserve a seat at the table."
Viswanathan acknowledges the importance of a programming background—essential in building the tools that allow the artists to create—but also stresses, "Be curious and open-minded, and don't be afraid to ask questions, because that's a great way to learn. Having mentoring or tutoring experience also goes a long way, since a lot of our day is people-facing; having good soft skills is a huge plus."
"Be confident in yourself and find your voice," Hurley stresses. "Those are the two things that have changed my life and let me go out for different opportunities, even when they scared me."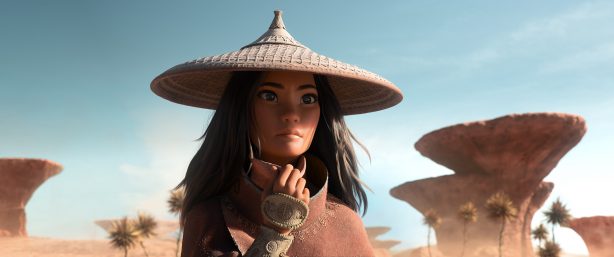 Shurer, who joined Disney Animation in 2012 and who previous produced the Oscar®-nominated Moana, underscores the importance of perseverance, especially when things are difficult. Her advice to women who are just starting out in animation is, "If you encounter setbacks along the way, take a moment to feel what you feel, and then get back into it," she says. "Your story, our stories, are valuable and important and need to be told, and your voice in shaping these stories is essential."
Disney Animation has a long history of stories featuring women in aspirational roles, Shurer points out, and it excites her to see an ever-growing number of equally strong women working behind the scenes at the studio. She shares, "As we move forward, our studio—led creatively by Jenn Lee, a woman who is a creative force in her own right, joined by women in leadership at every level—continues to lead the way towards greater inclusion on the screen and behind the camera. How cool is that?!"