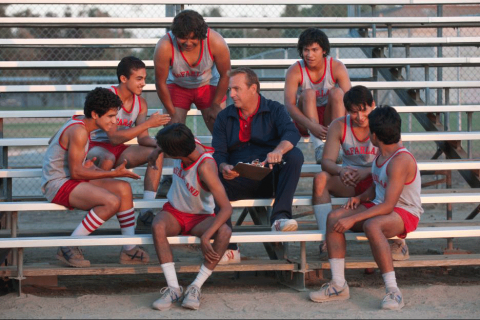 Actor Kevin Costner's latest film role, starring as inspirational high school coach Jim White inMcFarland, USA, opening today, continues his long relationship with The Walt Disney Company.
Costner, who won two Academy Awards® with his 1990 film Dances With Wolves, has made two other works for Disney: the 2003 release Open Range and 2006 movie The Guardian.
In some ways, he's seemed destined to have a relationship with the Company.
Costner, 60, recalls literally running into Walt Disney himself more than 50 years ago at Disneyland. As Costner related to ESPN Front Row during a visit to the network this month, as a 4-year-old he enthusiastically jumped off a ride—perhaps it was the Rainbow Ridge Pack Mules—and darted directly into the knees of a very important person.
"I kind of buckled him," said Costner, whose mother witnessed the encounter. "He asked me if I liked that ride I was just on and I told him I loved that ride."
"That was all I wanted to do. I must have been on that ride six times!"
The Lynwood, Calif. native once performed at Disneyland with a traveling choir, singing "The Battle Hymn Of The Republic," he said.
His friendship with Disney executives, including Walt Disney Studios Chairman Alan Horn and President of Motion Picture Production Sean Bailey, influenced his decision to portray White in McFarland, USA, which is based on the true story of a high school coach building a unique cross country powerhouse in Central California in the late 1980s.
"They asked me to come in and play Jim White and I said that I would," Costner said.
Learn more about Costner's thoughts on McFarland USA, his dream ESPN job and more by visiting ESPN Front Row.