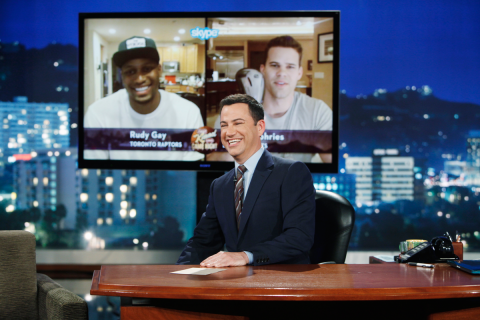 As ABC's hit late-night program Jimmy Kimmel Live (JKL) continues to deliver laughs on TV screens across the nation, the comedian and his hilarious antics went completely viral in 2013. This past year brought JKL new successes on computers and mobile devices, leading the program to earn the top spot for a late-night channel on YouTube.
For the past calendar year, the JKL YouTube channel accumulated more than 620 million video views—surpassing 2012's tally of 335,722,700 by 85 percent—and reached an impressive total lifetime count of more than 1.4 billion video views.
The channel's 2013 milestones also included the addition of nearly +2.9 million new subscribers during 2013 (versus +420,065 in 2012), growing to a lifetime total of 3.7 million subscribers and doubling the current subscriber count of the Late Night with Jimmy FallonChannel. And overall, the estimated number of minutes of video watched on the JKLYouTube page in 2013 was more than 1.5 billion minutes (1,534,887,556).
Congratulations to the entire, JKL team! We can't wait for more laugh-out-loud moments this year.