As we prepare to celebrate Christmas in the United States next week, we wanted to share how the magic of Disney is infusing the holiday spirit all the way to Japan. Throughout the past couple of months, Disney fans and locals had the opportunity to experience various holiday-themed stunts all throughout the country. Let's hop aboard the sleigh and travel overseas!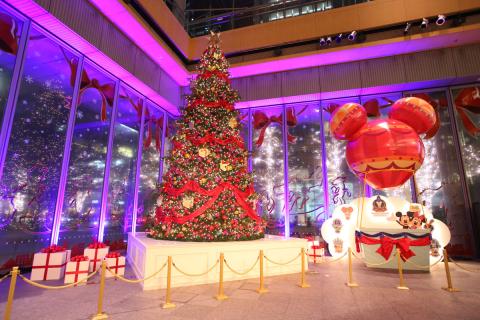 Walt Disney Japan, Mitsubishi Estate Co., Ltd. and Mitsubishi Estate Building Management Co., Ltd. collaborated to produce the "Happiness Town Project," which featured Disney-themed building takeovers in Tokyo's Marunouchi business district and the Yokohama Landmark Tower. The campaign, also known as Bright Christmas 2013, has delighted visitors since November and will run through Christmas Day in Tokyo.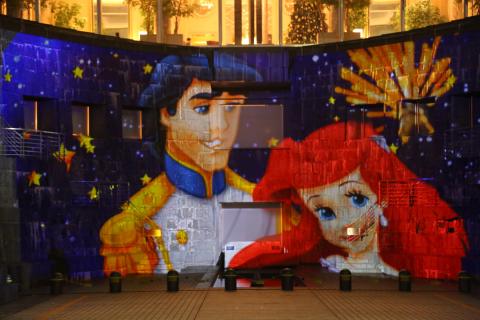 From a festive Christmas Tree decorated with ornaments representing beloved Disney characters to an extraordinary augmented reality attraction that involves guest interactions with Mickey and Minnie Mouse, the Marunouchi area is the place to get your Disney holiday fix in Japan. At the Yokohama Landmark Tower, spectators can also experience "Happy Christmas featuring Disney's The Little Mermaid" screened on a projection mapping display and a special pop-up Happiness Music Walt Disney Records Museum on the 69th floor of the building.
And just in time for the holidays, NTT Docomo—a leading mobile phone operator in Japan—introduced a new Disney-themed smartphone, Disney Mobile on Docomo F-03F, that launched with two new apps. The first, Disney 101 Art Gallery, features interpretations of Disney characters from popular Japanese artists, and Tokyo Disney Resort History provides users with an interactive timeline of Tokyo Disney Resort's 30-year history. Check out a preview of the device in the video above!