Did you know that The Walt Disney Company operates on six continents – and all seven if you count filming in Antarctica for Disneynature's Earth? From time to time, we'll update you on what's happening in various regions around the world. Today, we'll take a virtual flight to Europe to review some summer highlights.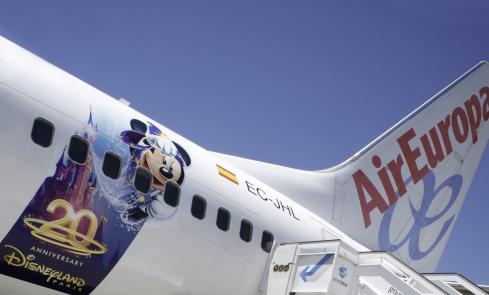 Madrid, Spain
This summer, to help celebrate the 20th anniversary of Disneyland Paris, Air Europa and Disneyland Paris unveiled five special airplanes, each featuring a Disney Princess or Mickey Mouse. On June, 22, 2012 these colorfully clad planes took their maiden voyage from Barajas Airport in Madrid to Orly Airport in Paris.
London, England
In July, the Great Ormond Street Hospital and The Walt Disney Company marked the opening of a brand-new Disney play area at the hospital. The celebration included a mini-premiere of Disney/Pixar's Brave prior to the film's release in the UK, and included the film's director, producer and UK celebrity Emma Bunton. The new play area at Great Ormond Street Hospital offers patients and their families a place to play and relax and includes an interactive zone that brings Disney characters to life.
As part of the celebration, Disney also announced that it is working on the creation of a new sensory garden for patients and their families on the Great Ormond Street site, which is scheduled to open in 2016. It will be the largest outdoor space at the hospital and will be specifically designed and landscaped by Disney.
Edinburgh, Scotland
It's only fitting that the European premiere of Disney/Pixar's Brave took place in Scotland, home to Merida, Pixar's first heroine, and the Macintosh, MacGuffin and Dingwall clans.
The film was featured on the final night of the Edinburgh International Film Festival in July. Take a peek at the premiere in this video:
That was just a quick look at a few highlights from our partners across the Atlantic this summer. Check back for more information about The Walt Disney Company around the world. You can also see more information about the countries where the Company conducts business by clicking through the maps on our site.