Since 1955, when Walt Disney personally invited California high school students to perform at the grand opening of Disneyland Park, Disney Parks has worked to inspire the creative talents of young performers.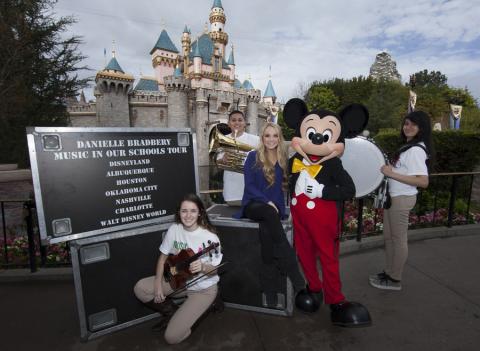 Last week, Disney Performing Arts took the show on the road by sponsoring a week-long "Music In Our Schools" national bus tour. Danielle Bradbery, 17-year-old country-music sensation and winner of The Voice, season four, kicked off the tour at Disneyland Resort, then visited high schools in five cities—Albuquerque, New Mexico; Houston, Texas; Oklahoma City, Oklahoma; Nashville, Tennessee; and Charlotte, North Carolina. The tour concluded over the weekend at Walt Disney World Resort with a special performance in front of 3,000 high school fans who participated in the 10th anniversary of Festival Disney, a competitive event for high school ensembles.
The "Music In Our Schools" tour reached out to students in their hometowns, inspiring them about the importance of music education and encouraging them to reach for their dreams. And that's what Disney Performing Arts is all about—giving young people opportunities to hone their skills, enhance their routines and even perform onstage in our parks. Just about every day of the year, you'll find choirs, orchestras, dancers and marching bands from a variety of countries who come to our parks around the world to make their performance dreams come true.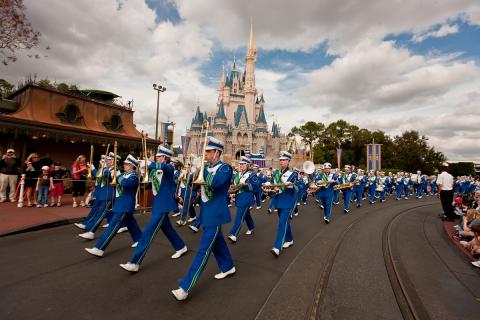 Workshops and training with Disney's own entertainment professionals teach young artists about more than just singing, dancing, acting or playing music. Disney Performing Arts inspires students' creativity and often opens their eyes to career opportunities within the entertainment industry that they may never have considered before.
Check out this video from that highlights moments from last week's tour.