By Nidia Caceros, Disney Consumer Products
UPDATE (October 23, 2012): We released a new image from the video's final scene today. We think it shows that the 3-minute video actually reinforces a healthy body image. In the final scene, we see the Minnie Mouse we all know and love. She looks into the mirror and realizes how happy (and fashionable) she is in her designer Lanvin dress. We hope this provides additional clarification.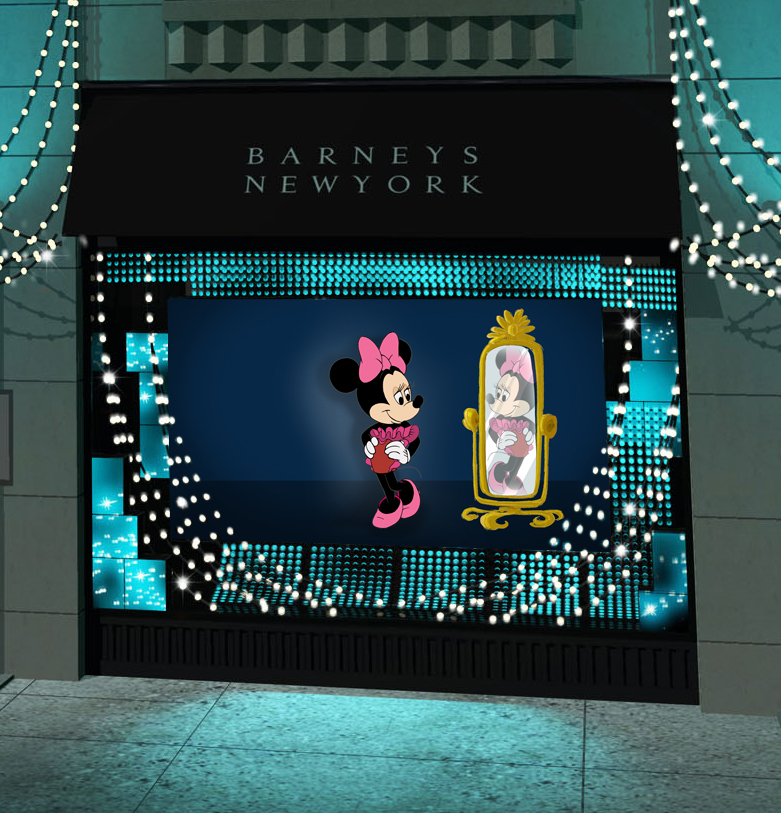 (October 12, 2012) In August, we announced "Electric Holiday," a project with Barneys New York. The one-time holiday promotion includes a moving art video that was designed to be a playful interpretation of the fashion world where Minnie Mouse briefly imagines what it would be like if she and her friends were a part of that high fashion world. The images shown during the brief dream sequence in the moving art video are highly stylized interpretations of these artistic characters. In the end, the video concludes with Minnie returning back to her classic self happily wearing a Lanvin designer dress.
We know many of our fans were intrigued with this news, and we wanted to give the behind-the-scenes story firsthand and provide insight into how we developed the creative concepts. I sat down with Luis Fernandez, senior vice president of global creative at Disney Consumer Products, to give us the scoop.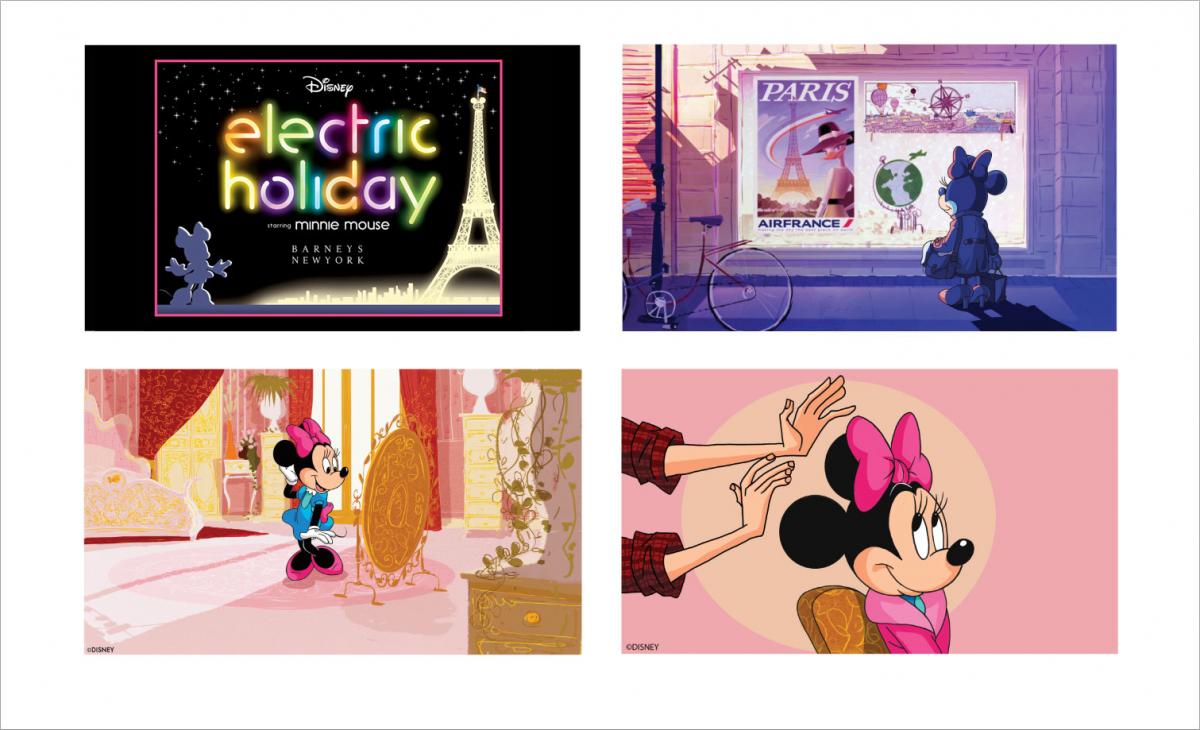 Nidia: Luis, we know that fans all over the world have an emotional connection to Disney characters. What can you tell Disney fans about how these stylized looks for "Electric Holiday" came to be?
Luis: "Electric Holiday" is a fun and colorful campaign that gave our character artists the creative liberty to do something artistic and completely unique. The elongated poses of Disney characters, including Mickey, Minnie, Daisy, Goofy and Cruella de Vil, are dramatically stylized. They're creative interpretations from a fashion lens, and only appear for a few seconds in this video. Their true form remains as classic as ever in every aspect of the company. A project like "Electric Holiday" is the kind of creative challenge which forces one to stretch the imagination while proceeding with caution. We know we have to be respectful of who these characters are and what they mean to us and to millions of people.
N: There is a scene in the moving art video when Minnie Mouse is transported into a fantasy world where literally anything is possible. Can you elaborate on that?
L: As we see Minnie gazing at a Paris travel poster, a dream sequence takes us into her mind – a fantasy world where she imagines herself as a fashion model on a Paris runway show, and we see her getting styled by the best in the fashion industry. Although Minnie is in her classic form for most of the piece, she does go through a dream portal at one point where she takes on this stylized fashion model form for just a few seconds. In the end, we see her happily back to her classic form still wearing her designer dress, designed by Alber Elbaz for Lanvin.
One of our more difficult challenges was bringing the two separate worlds of Disney and couture fashion together in a believable manner. Our solution was to have the characters pass through a magical portal as they step out onto the runway.
N: Sounds like a labor of love – a lot of passion, imagination and creative integrity went into the development process. What else is in store that fans can look forward to?
L: "Electric Holiday" will also feature a range of exclusive, limited-edition Disney holiday gifts that is just as magical as the creative itself and includes Vinylmation figures designed by Paul Smith and Diane von Furstenberg, Mickey Mouse ears designed by Rag & Bone and L'Wren Scott, and smaller items such as holiday ornaments, edible sweets, and much more. We also created original and exclusive artwork that will be featured on special Barneys shopping bags available with all in-store and Barneys.com purchases during the holiday season.
Stay tuned as we release more details on Barneys/Disney "Electric Holiday," which will be unveiled on November 14.