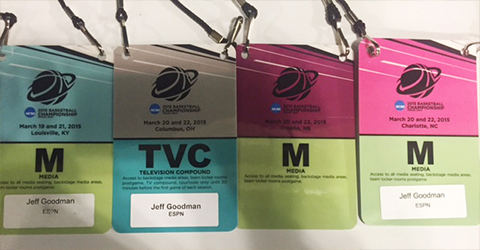 ESPN College Basketball Insider Jeff Goodman has been all over the NCAA Division I Men's Championship like a full-court press. To kick off the tournament, Goodman completed an ambitious four-state, four-day trip covering four different teams as the NCAA tournament's first full weekend started.
Via SportsCenter and other ESPN platforms, Goodman brought sports fans inside looks at the pre-game preparations of four teams with different scenarios: underdog Hampton University playing undefeated Kentucky in Louisville; up-and-coming coach Bobby Hurley leading Buffalo into its first NCAA tourney appearance in Columbus, Ohio; going head-to-head in a video game against superstar player Frank Kaminsky of Wisconsin in Omaha, Neb.; and relaxing with the family of another college star, Duke's Jahlil Okafor, before the Blue Devils' game in Charlotte, N.C.
"I am so tired," said Goodman, who averaged four hours of sleep per night during the assignment, "but it was a blast."
See behind-the-scenes photos of Goodman's adventures on ESPN Front Row.