ILMxLAB, Lucasfilm's immersive entertainment division, officially unveiled the title of their highly anticipated virtual reality project, Vader Immortal: A Star Wars VR Series, at Oculus Connect 5 in San Jose, CA. The first episode of the three-part series is set to launch in 2019 on the newly announced Oculus Quest.
Vicki Dobbs Beck, ILMxLAB Executive in Charge, and David S. Goyer, award-winning Writer and Executive Producer, joined together onstage for the surprise reveal. In addition to the official series title, they announced ILMxLAB's collaboration with Oculus and gave a first look by sharing the official teaser trailer which closed out the livestreamed keynote.
"We always look for opportunities to explore the Star Wars universe in new ways," said Kathleen Kennedy, President of Lucasfilm. "ILMxLAB is very excited to be working with David S. Goyer on a first-of-its-kind Star Wars experience which allows fans to travel to Darth Vader's fiery, lava-ridden fortress and wield a lightsaber on his home turf."
"Our mission at ILMxLAB is to have fans 'Step Inside Our Stories,' and Vader Immortal: A Star Wars VR Series represents a significant step forward in that ongoing quest." said Vicki Dobbs Beck, ILMxLAB Executive in Charge. "Our friends at Oculus share ILMxLAB's ambition to bring compelling immersive narratives to life and using Oculus' hardware, we will invite fans to experience Darth Vader as never before."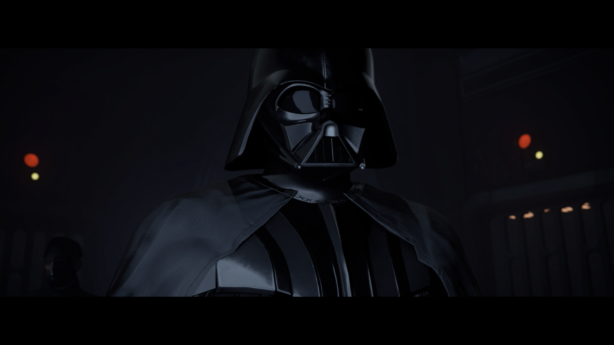 "As a lifelong Star Wars fan, working with ILMxLAB on an untold Vader story is a dream come true. The experience is designed to be 'immersive first,' meaning that from its inception, this three-part series has been conceived and executed specifically for the VR medium," said David S. Goyer, Writer and Executive Producer. "We're breaking new ground with this project that places you, the user, at the center of the story."
"Whether it's hearing Darth Vader's breathing behind you and physically turning to face him in person or wielding a lightsaber with your own hands, Vader Immortal captures the ultimate wish fulfillment," says Colum Slevin, Head of Experiences at Oculus. "Untethered VR immerses you in this universe and places you at the center of this amazing story."
The series takes place between Star Wars – Episode III: Revenge of the Sith and Star Wars – Episode IV: A New Hope, and is connected to ILMxLAB and The VOID's location-based hyper-reality experience Star Wars: Secrets of the Empire.
For more information about ILMxLAB, visit their website at www.ILMxLAB.com.