Inspired by Walt Disney Animation Studios' The Princess and the Frog, Tiana's Palace is now open at Disneyland Park in Anaheim, California, where each dish is served the way good food should be—with love! Not only that, but the quick-service restaurant's menu utilizes ingredients that are sourced directly from New Orleans or Louisiana whenever possible. For example, the andouille sausage, Carolina gold rice, and bread are supplied from New Orleans, while the Joffrey's Coffee™ Chicory Cold Brew uses cane syrup from Louisiana. Plus, two New Orleans-area hot sauces, Tabasco® and Crystal®, are used at Tiana's Palace.
Many talented chefs collaborated on the menu to ensure that it would appeal a range of tastes, according to Michele Gendreau, Director, Food & Beverage Experience Integration Disneyland Resort. "This is a study of palates," she said. "Not one of our chefs speaks the same spice level. We had very big discussions about how to bring the authenticity: 'How is it not too flat? How is it not too spicy?'" From coleslaw to macaroni and cheese, each chef got to add a bit of their own flavor. "I think that's where we're going with all of our food," Gendreau said. "We try and be as authentic as we can, and then we'll take guests' opinions."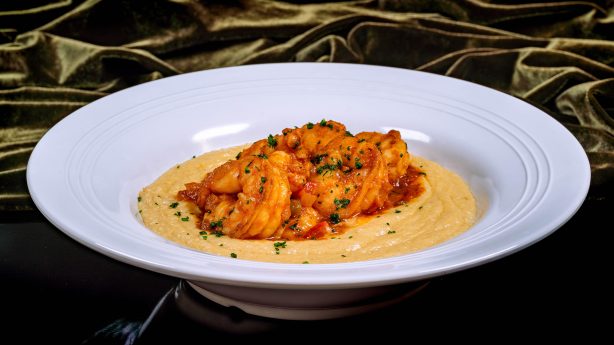 Just as filmmakers visited New Orleans during the early days of making The Princess and the Frog, the Disney culinary team traveled to the Crescent City to gain a deeper appreciation of what makes the city's flavor profiles unique. During one such visit, they visited 18 restaurants in two and a half days, including the iconic Dooky Chase restaurant, the Morning Call Coffee Stand, and the High Hat Café. "We have tasted a lot of food," Gendreau said. "We met with the Chases, and we also met with the film's production team to talk about: 'What is this going to be—and how does that come to life in food?' It had to start [with] Tiana's heart and soul, and her history with Eudora, her mother, and James, her father."

Like her father, Tiana's gumbo is famous… and Tiana's Palace offers two versions! The 7 Greens Gumbo is a plant-based offering (although guests have the option to add chicken and andouille sausage). "This is a gumbo that our friends, the Chases, have developed, and it's only served on the Thursday before Easter," explained Lindell Skinner, Operations Manager, Food and Beverage, Disneyland Resort, and Co-Chair of PULSE Employee Resource Group. "This is our opportunity to pay homage to the Chases and bring it to life at Disney." The House Gumbo, meanwhile, is a New Orleans staple that combines braised chicken, andouille sausage, and heirloom rice. "In The Princess and the Frog, Tiana really got her love of gumbo from her dad, James," Skinner said. "So, this is us trying to do our best to pay homage to that." According to Chef John State, Culinary Director, Food and Beverage, Disneyland Resort, creating such a famed recipe was both "a privilege and an undertaking."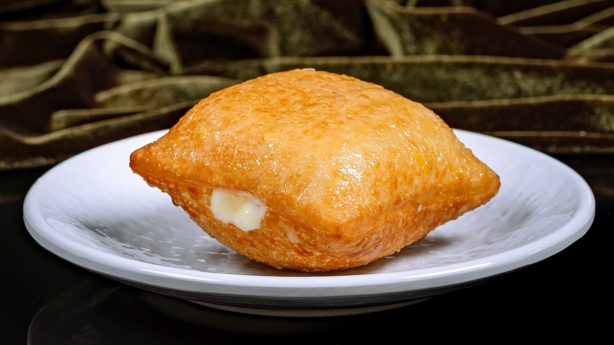 Another item, the House-Filled Beignet, is a lemon ice box pie filling topped with a lemon glaze. A lemon ice box pie "is not something you can find in a commercial restaurant," Skinner explained. "Beignets are a staple in New Orleans, but another [traditional dessert] in New Orleans is the lemon ice box pie; you really have to go into the neighborhoods to find them. We're paying homage to them by creating a filling that is a part of this beignet."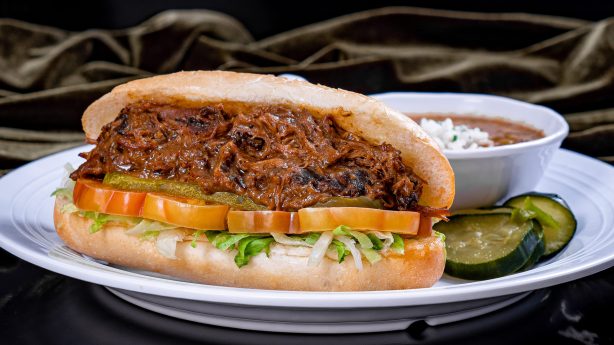 The Muffuletta Sandwich stacks mortadella, salami, rosemary ham, cheddar, provolone, and house-made olive relish on toasted sesame seed bread, while the Beef Po-boy Sandwich features slow-cooked beef coated with gravy and fully dressed with shredded lettuce, tomato, and mayonnaise atop a toasted French bread. To honor Tiana's heritage, the breads used for both sandwiches hail from New Orleans. "The ingredients are critical to tell the story, and sourcing this bread wasn't an easy task," State said. "We tried to duplicate the bread here, we tried to make it ourselves, we tried to work with somebody local to make it for us—and we just couldn't get there. What's important about the bread is that it's light and airy; it helps let the ingredients on the inside shine and really stand out as you eat it."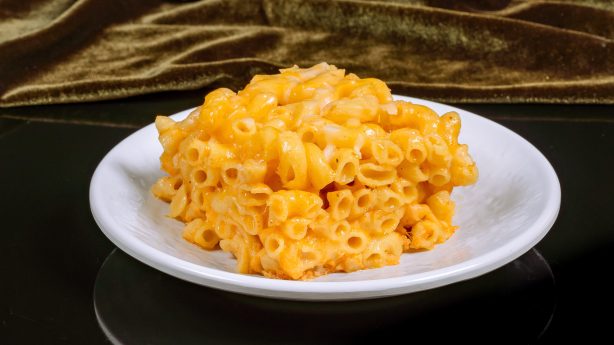 It's not just the flavors that are inspired by New Orleans; it's the presentation. Talking about the Baked Macaroni and Cheese (served as a side or a Kids Meal), Skinner said, "If you grew up in New Orleans, your baked macaroni and cheese was cut into squares. So, it was important to us that the Baked Macaroni and Cheese for Tiana's Palace is cut into squares."
As the co-chair of PULSE, developing the menu was a particular point of pride for Skinner. "PULSE stands for People United to Lead, Serve, and Excel, and our mission is to enhance the experience for our cast and our guests of African and Caribbean descent," he said. "PULSE actually came in to work with the chefs, and with the team, to give their feedback." Skinner added that as a New Orleans native, he felt "humbled" to play a role in opening Tiana's Palace at Disneyland Park. "For someone who grew up in the inner city, who has worked for this company for 23 years, it's an absolute honor to bring this to [our guests]."
It's not simply the food that pays homage to the place that shaped Tiana and her story. The look of the restaurant—a reimagining of the French Market Restaurant in New Orleans Square—can be traced back to 2006, when The Princess and the Frog's filmmakers embarked on their first research trip to New Orleans "to learn all that we could about the Garden District, the French Quarter, the Ninth Ward, and everything in between," James Finch, Visual Development Artist Walt Disney Animation, said. "For the setting of Tiana's restaurant, we looked at the regional factories, industrial buildings, and sugar mills that were left behind in the changing era." Additional inspiration came via Disney Legends Herb Ryman and Dorothea Redmond, whose ideas helped shape New Orleans Square's aesthetic.
Like the filmmakers, Disney Imagineers "did a tremendous research" before they began transforming the French Market Restaurant into Tiana's Palace, according to Kim Irvine, Executive Creative Director, Walt Disney Imagineering. "We had lunch in New Orleans Square with [film] directors John Musker and Ron Clements, as well as the producers, and we looked at all the different façades," she said. "When we got to the French Market, Ron and John said, 'That's it! It looks like a sugar factory. It has all the bones: the balcony out front where she comes out to wish on a star, the brickwork on the exterior. It's perfect!'"
For the exterior of Tiana's Palace, Irvine said, "We went from a soft pink to a golden yellow with green awnings, which are Tiana's colors." Irvine added, "Tiana's sign lights up beautifully during the day, but at night it twinkles. The steamboat cabin lights up with an amber light, and the big amber 'T' lights up on the smokestacks. It looks really spectacular."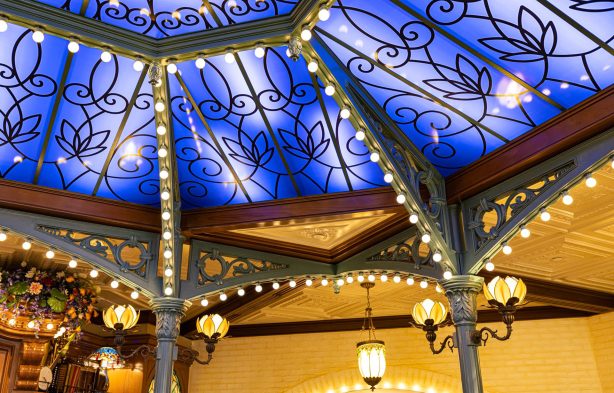 Within the restaurant's peach-colored walls and wrought-iron balconies are elegant fixtures and appointments inspired by the film. "The interior had so many wonderful elements to it already, from the skylights to the big areas for the murals," Irvine said. "We now have a beautiful mural of the bayou with Evangeline and Raymond—stars up in the sky." There are, of course, other references to Tiana's story, like frog porcelains and her father's favorite gumbo spoon, as well as lilies that appear on signs, plaques, and lighting fixtures. Props promoting the Firefly Five Plus Lou were inspired by some of the Disney's original animators, who had a jazz band in the 1950s called the Firehouse Five Plus Two. "You can also see the pots and pans used to steam oysters and shrimp, as well as the kinds of mixing tools Tiana would use to make beignets," Irvine said. "All of the details are there!"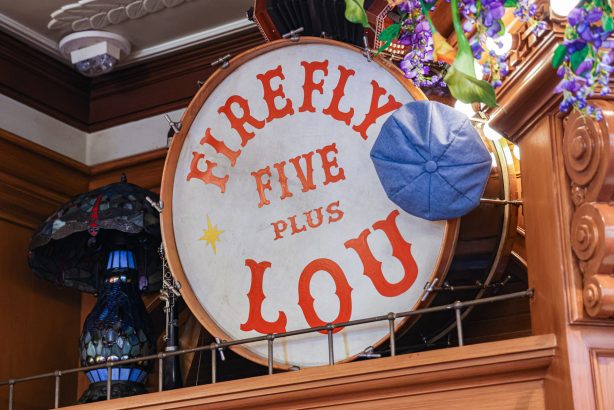 Jazz music is in The Princess and the Frog's DNA, and the band plays on in Tiana's Palace. "Our musicians at Walt Disney Imagineering put together a fabulous jazz score for inside the restaurant!" Irvine said. "It feels authentic to the space, and it adds an excited energy."
The Tiana's Palace restaurant opening marks the next step in bringing more of Princess Tiana's stories to life in New Orleans Square, which began with Eudora's Chic Boutique featuring Tiana's Gourmet Secrets in 2022 and will continue with the opening of the Tiana's Bayou Adventure attraction in 2024 (also opening at Walt Disney World Resort in 2024).