To tell a tale as old as time that's as inventive as its heroine, the production team behind ABC's Beauty and the Beast: A 30th Celebration assembled a diverse team of talent to bring the classic story to life for the young and young at heart. Presented by The Wonderful World of Disney, the animated and live-action blended special will air Thursday, December 15, at 8 p.m. ET/PT and be available to stream Friday on Disney+.
Emmy® Award-nominated production designer Julio Himede is behind the special's wonderful and whimsical set design. He utilized cutting-edge technology to honor the 30th anniversary of when Walt Disney Animation Studios' Beauty and the Beast became the first animated film to be nominated for Best Picture at the Academy Awards®. "Our overall goal was to take the wonderful art created for the original film and explore a different creative approach that celebrates it," says Himede, founder of Yellow Studio. "We didn't want to take away from or disrespect the art they created, but to complement it and allow viewers to see themes from the film in a different way."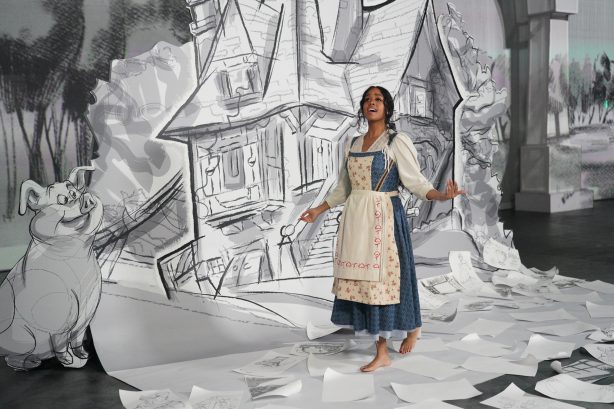 Himede's team spent about 15 months perfecting the production design. "There was a romantic period of three or four months where we explored different concepts," he recalls. "After that, we started actually designing set pieces for all the different scenes." His team also worked closely with lead choreographer and executive producer Jamal Sims and costume designer Marina Toybina to tell a cohesive story. "We had conversations from the very beginning," Himede says. "The set design relates to the language of the costumes, and they relate to the visual language of the movement. It was a lovely collaboration."
A longtime fan of the original film, Himede and his team took extra care to honor the film's legacy. "My team was inspired by the thousands of sketches the animators made," he says. "We had exclusive access to the Walt Disney Archives in Burbank, where we were able to see, feel, and touch these wonderful sketches. We also had the opportunity to meet Mark Henn, who was the lead character animator for Belle. It was a great honor to talk to him. I even said to Mark, 'All of your wonderful art, doodles, and sketches—even the ones that didn't make it into film—inspired our set design and the entire visual identity of the 30th celebration production. So, thank you.' It was so wonderful to meet and honor the artist who worked 30 years ago on this production."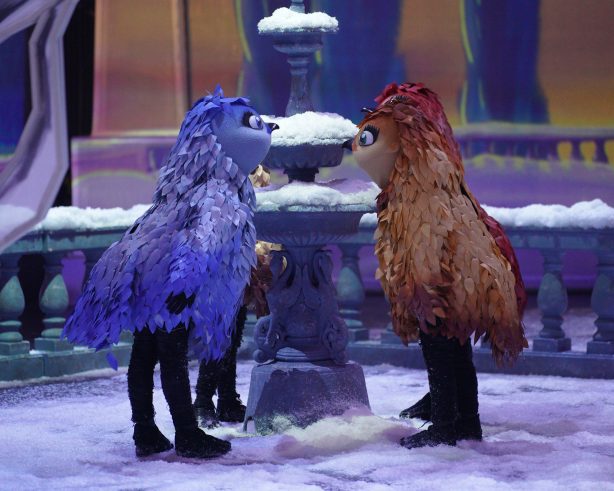 For example, black and white storybook sketches appear in "Belle," further illustrating the union between the animated film and the live-action production—the latter of which was taped in front of a live audience at Disney Studios. "After talking with [executive producers] John M. Chu and Hamish Hamilton, we wanted to portray Belle coming out of her house in a sketch world," Himede explains. "Doing a 2D sketch form of that entire scene was a way for us to let the audience know that we are celebrating the art form of the film, from that particular moment going forward. And at the very end of that performance, it transforms from a black and white sketch to color."
In fact, several original sketches are used as backdrops in the special, tying the past and present iterations of the story together. "We use a lot of video projection and video technology," Himede says. "We wanted a smooth transition as the audience watches the original animation transition into live-action. It was a challenge, but the technology allowed us to smooth everything out—and I think we got there in the end."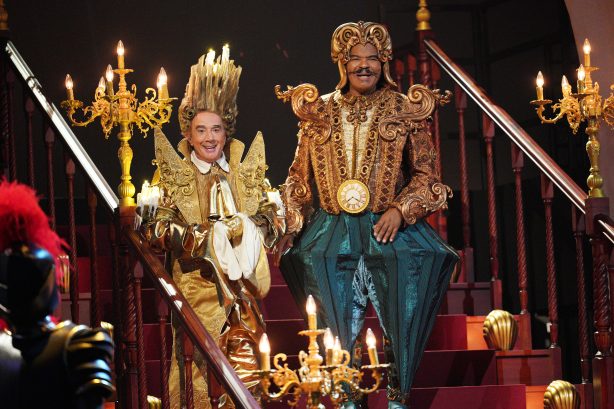 One of the biggest show-stoppers is "Be Our Guest," the splashy musical number featuring dancing cutlery, decadent desserts, and more. "It's the film's most fun song. It's very high energy, so it was a challenge for us to reinterpret that in our own way," Himede explains. "At the beginning of 'Be Our Guest,' we have done something very interesting that involves puppetry. We start quite small, and visually, it grows into a big, massive-scale number, which the song requires. It took us about six months to create."
Directed by Hamilton, Beauty and the Beast: A 30th Celebration stars H.E.R. as Belle, Josh Groban as The Beast, Joshua Henry as Gaston, Martin Short as Lumière, David Alan Grier as Cogsworth, Shania Twain as Mrs. Potts, Leo Abelo Perry as Chip, Rizwan Manji as LeFou, and Jon Jon Briones as Maurice. Rita Moreno serves as the special's narrator.