Set on a remote island off the west coast of Ireland, Searchlight Pictures' The Banshees of Inisherin follows two lifelong friends who find themselves at an impasse after one abruptly ends their relationship, with alarming consequences for both of them. The film, now playing in theaters, stars Dubliners Colin Farrell and Brendan Gleeson, who reunite with director-writer Martin McDonagh, with whom they made In Bruges (2008).
Although he was born in London, McDonagh's parents are Irish—his mother from Sligo and his father from Galway—and The Banshees of Inisherin pays tribute to the filmmaker's heritage. For starters, the characters Pádraic and Colm were written specifically for Farrell and Gleeson, respectively—two of the most lauded, respected Irish actors working today. "As an actor, you're looking for someone who has a unique voice, an original way of articulating thoughts and feelings and creating characters and whole worlds," Gleeson says. "It's lovely when you come across a writer who establishes a world that has its own kind of order and sense of aesthetic. Martin's voice can be extraordinary."
Just as the filmmaker wrote the aforementioned roles with Farrell and Gleeson in mind, he created the character Siobhán, Pádraic's sister, just for Kerry Condon, who hails from Thurles, a town in County Tipperary, Ireland. "Kerry and I worked together in the theater, so we've known each other for years," says McDonagh. "She also had a small part in Three Billboards Outside Ebbing, Missouri, that was written with her mind. There wasn't anyone else who could have played it."
The fictional Inisherin has a single pub run by Jonjo, played by Pat Shortt, whose best friend Gerry, played by Jon Kenny, is normally in residence. This was clever casting on behalf of McDonagh and casting director Louise Kiely, as Shortt and Kenny were once Ireland's best-known comedy duo, performing under the moniker D'Unbelievables.
Because most of the actors in The Banshees of Inisherin, they were adept at reciting McDonagh's stylized turns of phrase. "Martin's writing is so good when he writes for Irish people," Condon shares. "It's easy for me to say the lines because they're how I talk. Martin is from England—his parents are Irish, but he speaks in an English accent. So, it's a credit to his ear that he can write exactly the way we speak."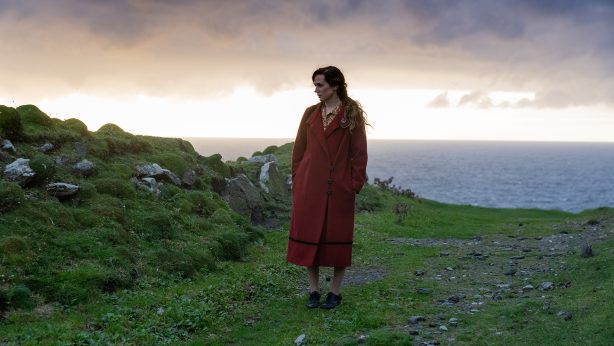 The Banshees of Inisherin is set in 1923, just as the Civil War was raging in Ireland. Although the fictional island of Inisherin is unaffected, the tension on the mainland is palpable. "Cannon roars and gunfire can be heard some nights, and so we're very aware on the island that there's a civil war taking place," Farrell explains. "But we're also kind of shielded from it by virtue of being out of the way and a coastal outpost."
Indeed, locals on Inisherin try to remain detached from what's happening outside of their bubble. "It's funny that the people on the island don't seem to want to even address what's going on in the mainland," Condon muses. "They're not bothered about the war. It's like they're a separate little country—a separate little everything." However, the events taking place on Inisherin—the sudden division between Pádraic and Colm and the festering problems affecting others on the island—reflect that rift.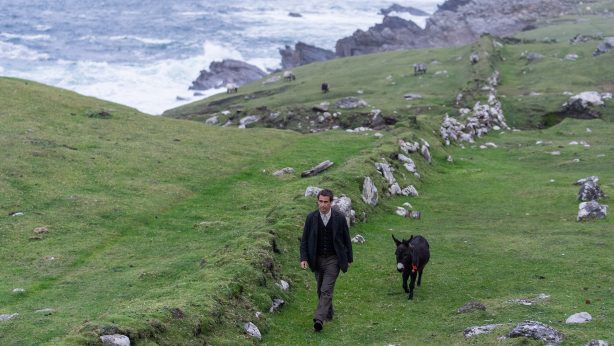 McDonagh reveled in getting to finally bring historical towns and characters to life. "When you set something in the past it opens up a lot of possibilities," he says. With In Bruges, he excluded modern references to create a timeless milieu, while Three Billboards Outside Ebbing, Missouri, was designed as a self-contained timepiece. Similarly, The Banshees of Inisherin does not adhere to historical boundaries. For example, its very title refers to a ghostly figure from Irish mythology who foretold death. Says Farrell, "If you've heard her belt out her tune, it's already too late for you."
McDonagh approached producer Graham Broadbent in late 2019 about making the film, but production plans were ultimately delayed due to the COVID-19 pandemic. So, McDonagh rallied three collaborators—production designer Mark Tildesley, director of photography Ben Davis, and first A.D. Peter Kohn—in a house in Galway, where the pre-production period would stretch into a year. The team spent two weeks together, sitting around a fireplace, discussing the script. During this time, the team went on long road trips, from Galway up the west coast of Ireland to scout for locations. They selected the Aran Islands, a group of three islands at the mouth of Galway Bay: Inishmore, the largest; Inishmaan the second largest; and Inisheer, the smallest. The isles have a combined population of around 1,200 people who primarily speak the Irish language. "To live on the islands, people built walls from the rock, so you have this patchwork quilt of tiny, small plots of land," says Tildesley, a newcomer to the region. "You end up with this extraordinary, ancient pattern of rock walls, which in Martin's script is written almost like a labyrinth—a maze in which these two characters live."
"Inisherin is a fictional island, so I didn't want it to be specifically one place," adds McDonagh. "I wanted it to be more mythical. So, we explored each of the Aran Islands. Inishmore ticked most of the boxes. I'd been there as a kid. My parents were living in Galway along the coast, and you can see the Aran Islands from where they were."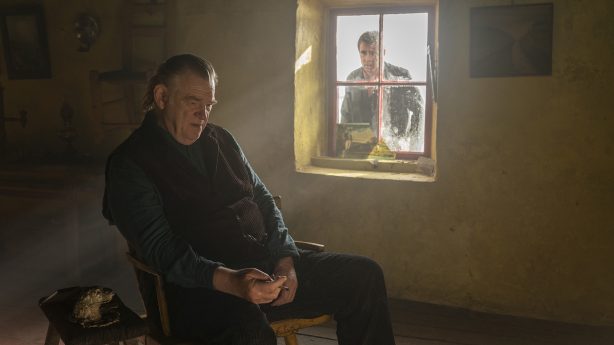 The team built Pádraic and Siobhán's house in an area called Gort Na gCapall on Inishmore. "Martin took us to some super extreme places," Tildesley says. "We came back a few steps from the coastline and found a location on the edge of the cliff to build the house, looking down over one long end of the island towards an ancient monument called Dún Aonghasa. You see it from that kitchen window."
Immersing themselves in Inishmore helped the actors get into character, Farrell says. Alongside his fellow cast and crew, the actor would travel to Inishmore via ferry. "It was so exciting," Farrell recalls. "The people there were so glorious and generous. Dún Aonghasa, the prehistoric hill fort, was up there on the horizon, reaching for the sky all this millennia. It was so strange and anomalous to have weather that was as consistently beautiful and almost Greek." Condon adds that filming in Inishmore was like a "spiritual" experience: "The locations and scenery are characters in themselves."
Next, the cast and crew relocated to Achill Island, 150 km away in County Mayo, for the pub scenes. McDonagh says he wanted to "capture the beauty of Ireland in the film and lean into that. The story is dark enough anyway, but we wanted the visuals and the locations to be as cinematic as possible." For example, the mountainous geography of Inisherin impacts the story. "These looming mountains have a lot of tragedy behind them," Gleeson offers. "It's been informative, in terms of the broadness of Irish life, because the two locations are very different. Achill has massive mountains; Inishmore has no trees. Yet they have an intimacy about them that's very real. It was a dream to be able to come to these places." Ultimately, McDonagh says he sought to create one of the most beautiful Irish films in cinematic history. "Summer in Ireland is usually quite rainy and dour, but when we shot, it was beautiful. It was majestic," McDonagh says. "The sunsets and the skies were fantastic and lent themselves to a beautiful piece."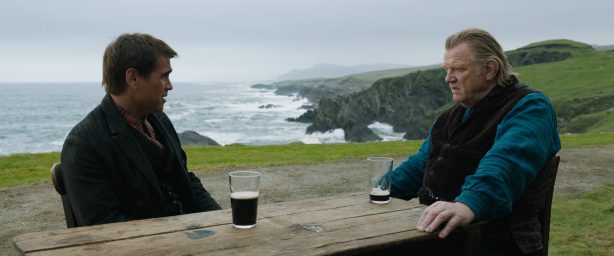 The film would not have been possible without help from the locals on Inishmore and Achill, McDonagh adds. While Tildesley worked with local stonemasons, a local company laid stone on the roads to restore their original appearance. Locals offered carts and horses for transport, and fishermen in the Achill harbor offered their services.
Although the story is distinctly Irish, Farrell says it has universal appeal. "McDonagh's stuff is funny and has an anarchic element," he says. "But ultimately, I think his work stands the test of time because it's moving and it's relatable. We're not just telling a story of people on an island. The explorations of fidelity, friendship, separation, loneliness, sadness, death, grief, and violence: these are very human sentiments that we can all relate to, that we have all been touched by, at least indirectly if not directly."