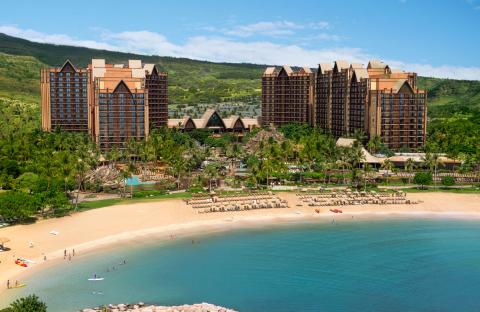 Three years ago today, Aulani, A Disney Resort & Spa in Ko Olina, Hawai'i opened its doors for Disney guests to experience a vacation destination unlike any other—one that's deeply rooted in Hawaiian culture.
With the attention to detail for which Disney is known, Aulani illustrates the stories of Hawai'i through entertainment, architecture, artwork and most of all, the people who live here. In fact, the name Aulani means "messenger of the chief," as Aulani serves as a messenger of the Hawaiian spirit, people and culture.
The resort, situated on 21 acres of oceanfront property on the island of O'ahu, celebrates the qualities of Hawai'i with a touch of Disney magic. The white sandy beach, tropical gardens and turquoise lagoons are just a few highlights of this vacation paradise. With signature entertainment and recreation options, there are adventures for all ages. Guests can get up close to Hawai`i's marine life with a snorkel experience in Rainbow Reef, enjoy an exciting dip down Tubestone Curl, or relax on a lazy ride through the Waikolohe Stream.
Happy anniversary, Aulani! Here's to many more guests experiencing this one-of-a-kind resort and the true enchantment of Hawai'i.