Earlier this month, Disney Interactive and Disney Consumer Products partnered to host their first ever Hack Days event at office locations around the world. A tech industry tradition, Hack Days encourage employees to think outside of their daily scope to come up with original ideas, pitches and business solutions before presenting them to leaders from the company.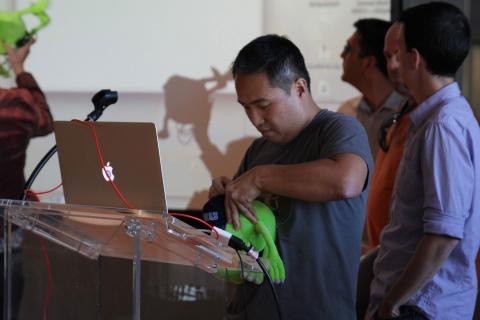 Our teams spent the day creating hacks focused on the theme of connecting the physical and digital worlds, using a variety of platforms and technologies including Oculus VR, beacons and 3-D printers. More than 350 employees put together 45 hacks, which were presented at the Hack Day Showcase and submitted for patent review. The top teams then had the chance to share their projects with Disney Interactive and Disney Consumer Products Presidents Jimmy Pitaro and Bob Chapek, who selected the winning ideas to go into the production pipeline.
Hack Days are part of Tech Days at Disney, a week-long series of tech seminars, workshops and panels to bring together the tech community from across The Walt Disney Company. Twice a year, Disney Interactive invites internal and external leaders to speak to our community of developers, engineers and managers.