In 2012, Good Morning America became the No. 1-ranked morning news program for the first time in 17 years. The show's unique style coupled with the on-air team's chemistry has struck a chord with audiences. After speaking with GMA's Senior Executive Producer Tom Cibrowski, I quickly found out that the program's rise to the top is anything but serendipitous.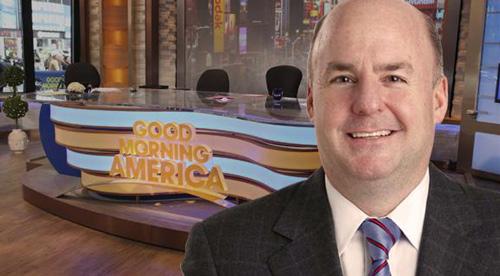 Tom shares, "Part of the success at GMA is that we've innovated the show into a more modern environment. It used to be two anchors, a newsperson and weather person. We've opened it up to make it more of an ensemble cast and much more integrated. The idea to expand out of the traditional two-anchor environment, where they can engage with each other and hopefully develop a great chemistry, has invigorated our 37-year-old show. It's morphed into a dynamic, fun environment with people who are not only friends in real life, but who the audience sees as their friends as well.""
Tom also credits the award-winning show's recent ratings boost "GMA pulled in an overall audience of 5.314 million during November sweeps, outpacing NBC's Today by nearly half a million total viewers" with finding the right people for the ensemble.
"ABC News President Ben Sherwood brought Josh [Elliot] and Lara [Spencer] into the mix. Josh has terrific live broadcasting skills and Lara has always been a true friend of GMA, having been part of the program in a big way from 1999 through 2004. They immediately clicked with Robin [Roberts], George [Stephanopoulos] and Sam [Champion] and off we went," the ABC News veteran says.
Along with its new cast, GMA has introduced fun, new segments, including "Play of the Day" and "Pop News Heat Index." Finding the right balance between entertainment and what is often serious news is also where the team really excels.
Tom says, "There's a lot of tough news in the world, so our audience appreciates that we have time for both hard news and pop culture news. George, Robin and Sam contribute mightily to this entire balance with their incredible strengths as journalists and broadcasters who are able to handle anything that comes their way."
Now that GMA is at the top, the goal is to continue its reign as America's favorite. ""Our GMA team is energized by how we got to No. 1,"" Tom adds. "Now we are collectively focused on how to remain the top TV news choice every morning."