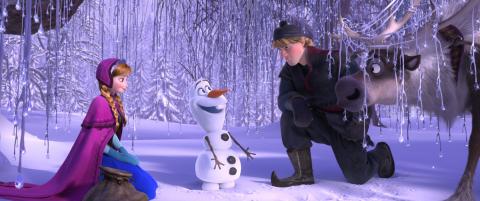 The great news continues for Frozen! The film, which won the BAFTA Award for best animated film this weekend, recently passed $955 million at the worldwide box office; it's doing particularly well in South Korea, where it has held the No. 1 spot for five straight weeks and is already the biggest animated release of all time.
Stateside, the soundtrack has spent a total of four weeks at the top of the Billboard 200, and the incredible ballad "Let It Go" has gone platinum, meaning it has sold more than one million copies. I made a special trip down to the El Capitan Theatre to experience the sing-along, and I have to say it was incredible to be there and share some tuneful energy with a theater full of fellow Frozen-atics—kids and adults alike!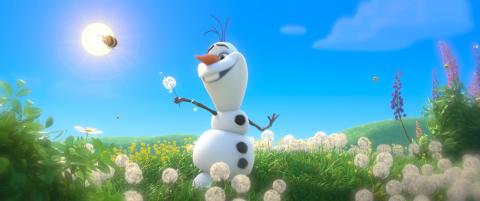 In celebration of the film's latest achievements, I wanted to get some inside perspective on the making of the film and what inspires our Walt Disney Animation Studios artists. I don't want to say I have a "favorite" character in Frozen—they're all amazing—but I was thrilled to be able to pick the brain of Hyrum Osmond, supervising animator for Olaf, the film's sweet, singing, summer-loving snowman.
Tell us a little bit about your background.
I was born and raised in Provo, Utah, and I've been a fan of Disney animation since I was a little kid. Drawing was my passion, and I committed, as a child, to one day animate for Disney. At Utah Valley State College, an amazing figure-drawing teacher finally pointed me in the right direction. I later entered into the animation program at Brigham Young University and then into an internship with Avalanche Software. In 2008, I lived the dream and came to Walt Disney Animation Studios.
What other characters have you animated?
Some of the other characters I've worked on are Bolt and Rhino (Bolt), Rapunzel and Maximus (Tangled), Ralph and King Candy (Wreck-It Ralph) and Meg and George (Paperman).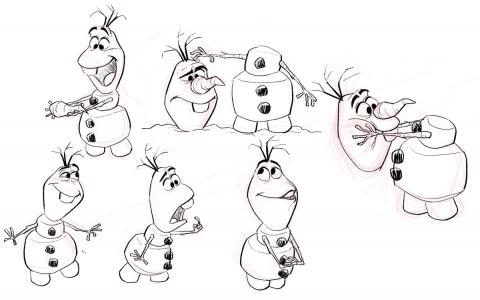 How much of Olaf was there before animation began, and how much developed during animation?
We did our very best to answer as many questions as we possibly could before production began. Most of the elements of Olaf's design stayed pretty consistent throughout the film. However, his eyebrows changed quite a bit. We played with different types of material at first—grass, twigs, etc.—but eventually we landed on the thin, bark-like brows.
How many versions of Olaf did you go through before you hit on the final design?
We did many iterations during pre-production. He started out a little taller and thinner than where he ended up. When production began, we had his design locked down pretty well.
What are some of the things that you did to tie everything together and keep the look of the film consistent?
This was a big focus on the project. With so many different animators on the show, we did all we could to help them keep facial expressions and posing consistent. One tool was to provide a library of poses that the animators could pull from. Olaf, for instance, had certain expressions and movement that became unique to him. Providing a way for the team to have quick access to that was very helpful.
Senior animation supervisor Becky Bresee has talked about acting out scenes to capture a model of the performance. What are some other ways you approach animating a character or scene?
Observation is the key for me. Especially with Olaf, his movement really became a study in how a child moves. I pulled a lot of my ideas and acting from watching my son. He wound up being a huge influence on the character.
What is your all-time favorite Disney animated film?
This question is way too hard to answer! But if I have to choose, I would say, The Little Mermaid, Aladdin, The Jungle Book, The Three Caballeros, Robin Hood, Winnie the Pooh,Alice in Wonderland and Peter Pan. Collectively, that would be my favorite movie.
I know how you feel! I imagine those films inspire you, of course. But what else inspires you? When you're "stuck," what do you do?
I find when I get stuck that I just need to step away—and go to Disneyland. Hang out with the family, focus on what's most important, and then come back to it with fresh eyes.