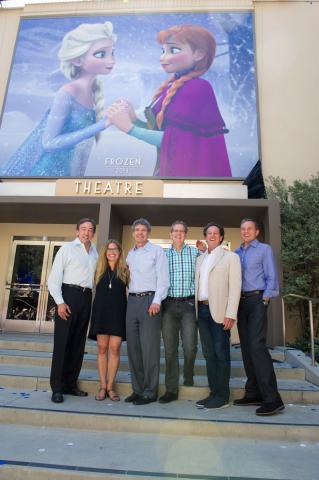 Despite the blazing-hot California sunshine, The Walt Disney Studios lot never felt soFrozen. On Friday, September 12, the Disney film that became a global sensation and the No. 1 animated movie of all time was honored at the Company's headquarters.
Alan Horn, chairman of The Walt Disney Studios, led a special celebration for employees outside the Studio Main Theatre to honor the film's worldwide success. "Animation is the basic DNA of this company," Alan said. "In the past couple of months, a phenomenon has occurred that we're all aware of—and that phenomenon is Frozen. We're all very proud of this movie because its success and quality are completely consistent with the values we share and care about at Disney." Disney Chairman and CEO Bob Iger also joined the festivities, along with Andrew Millstein, executive vice president and general manager, Walt Disney Animation Studios, and three of the filmmakers responsible for bringing the tale of Anna and Elsa to life.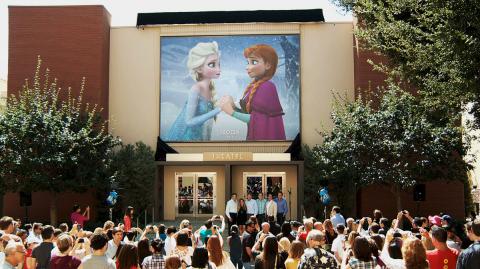 Frozen directors Jennifer Lee and Chris Buck and producer Peter Del Vecho took the stage to reveal the new marquee featuring Frozen's famous sisters. "This honor is incredibly humbling," Chris said at the event. "Some of the greatest movies in history were made by Walt Disney and his 'Nine Old Men.' The fact that Frozen now has a place on the Studio lot, so close to the Animation building where many of their movies were made, is especially meaningful to me because I started my career there. The classics that were made in that building inspired us while we were creating Frozen, and we all feel very blessed to be a part of the Studio's rich legacy."
Jennifer added, "Frozen could only have been made here. The dream to make a modern Disney classic drove all of us. We're so grateful that our colleagues throughout the Company took Frozen into all of their hearts, and the support, dedication and care they gave to the movie are unprecedented."
Peter was equally humbled by the tribute, saying, "We always knew this film was special to us and we had no idea how big it would become. Thank you, Bob Iger and Alan Horn not only for your leadership, but also for your belief and passion in this movie right from the very beginning. And I also want to thank John Lasseter and Ed Catmull, along with Andrew Millstein, for creating a studio where art and people can flourish."
Andrew closed the ceremony by saying, "The success of Frozen belongs to everyone at the Company. It's amazing to watch and feel how lovingly it's been embraced, and it's truly one of the great things that makes Disney what it is."
From Snow White and Fantasia to Pinocchio and now Frozen, the art on the façade of this landmark building changes every year in honor of Disney's contributions to the art of feature animation. The unfurling of a remarkable image from our latest cinematic classic proves that tradition continues to this day.