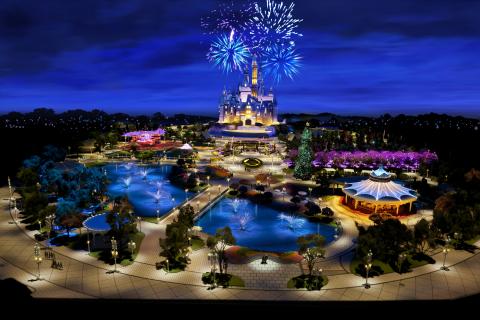 The image illustrates a portion of the model of Shanghai Disneyland, and provides a first look at a beautiful, 11-acre green space at the center of the park, and a closer look at the unique design and scale of Enchanted Storybook Castle, the iconic central attraction of the theme park. On opening day, the resort will include Shanghai Disneyland, two themed hotels, a 46,000-square-meter (495,000 square feet) gross floor area retail, dining and entertainment venue, recreational facilities, a lake and associated parking and transportation hubs.
Bob shared, "With Shanghai Disneyland, we're creating a one-of-a-kind destination that is authentically Disney and distinctly Chinese. We believe this will be one of the most spectacular Disney experiences yet — and an important part of our future. We look forward to opening the gates at the end of 2015 and welcoming the first of the millions of guests who will enjoy Shanghai Disneyland for generations to come."
Tom Staggs, chairman of Walt Disney Parks and Resorts also noted, "We are incredibly excited about the developments and progress of the Disney resort in Shanghai, one of the world's most vibrant cities. Shanghai Disney Resort will bring a classic Disney Parks experience to mainland China and will immerse Chinese guests in a whole new world of creativity, imagination and adventure that only Disney can deliver."
We look forward to sharing additional Shanghai Disney Resort updates as development continues!