Looking for a blissful moment in your day? At Disney Consumer Products, we're hard at work developing products that create those special moments.
Of course when you're working with warm and loveable character like Winnie the Pooh, you can't help but have fun. Nostalgic and popular, Pooh continues to grow in popularity while sparking fond memories.
Every year our team creates thousands of Winnie the Pooh products, from apparel, beauty, home décor, toys, mobile apps and more.
This fall, a free app series will take you deep into the Hundred Acre Wood, enabling parents and toddlers to connect with Pooh in a new, interactive way through action, bright colors and sounds. And for expecting parents, Disney Baby will introduce the cute and comfortable "Peeking Pooh" nursery collection.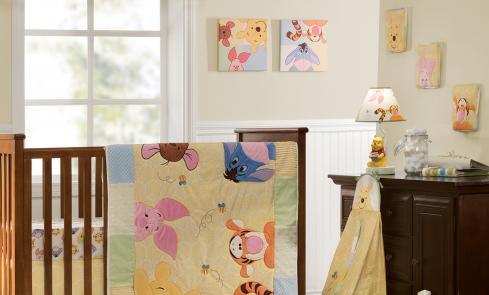 Today, we are giving you a first look at four of six new Winnie the Pooh Smackerel videos that feature our favorite, silly "plush" bear in live action puppetry and post effects. (For those of you who may not be "in the know" with all Poohisms, Smackerel is a word he uses to describe a snack or small amount of honey).
Character artists and producers created these "feel-good" moments with A. A. Milne's original vision in mind. Reminiscent of The Mini Adventures of Winnie the Pooh animated shorts on Disney Junior, these bite-sized shorts surround Pooh with his trusted friends to deliver happy, simple thoughts, sure to brighten your day.
First up, "It's so much friendlier with two."
Let us know what you think in the comments. Stay tuned to catch the rest of the Winnie the Pooh Smackerel series. One of my favorites is coming up next, "Nobody can be uncheered with a balloon." Live the Magic!