UPDATE (December 11, 2012): ESPN Front Row recently released this video showcasing the global expansion of the X Games. Watch the video below and click here to read more about what's ahead in 2013.
In 2013, ESPN's X Games franchise "goes global."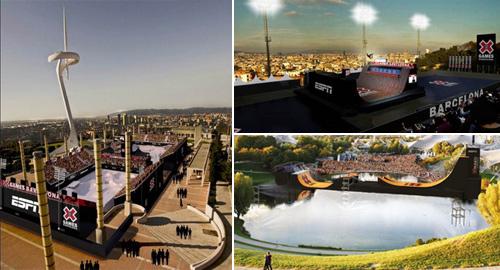 The action sports competition and cultural festival, an annual staple of ESPN's since the mid-1990s, adds three new locales next year: Foz do Iguaçu, Brazil, Barcelona, Spain and Munich, Germany.
They join established X Games venues in Aspen, CO, Los Angeles, CA and Tignes, France.
Since May, the X Games team has visited the new host cities to work with respective local organizing committees (LOC). As the X Games expand globally in 2013, they will highlight unique cultural and lifestyle elements of each location.
ESPN production meetings have been held in the three new locations over the past month. Front Row's Danny Chi provides us with access to the people working behind the scenes to expand the X Games brand, as well as a look at photos and renderings of what the new venues will look like once the games begin.
Here's a look at the 2013 schedule:
Aspen, CO, USA: January 24-27
Tignes, France: March 20-22
Foz do Iguaçu, Brazil: April 18-21
Barcelona, Spain: May 16-19
Munich, Germany: June 27-30
Los Angeles, CA, USA: August 1-4