When ESPN founder Bill Rasmussen purchased property in Bristol, Connecticut, for its 1979 launch, the site measured less than an acre. Today, ESPN's headquarters stretch 123 acres, including 36 in Southington, Connecticut.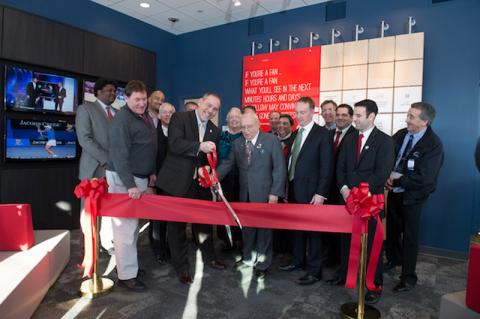 In today's blog post, check out the newest addition to ESPN's Central Connecticut headquarters: the new Welcome Center. It's the 17th building on the ESPN Plaza campus. The first building ESPN has in Southington, the Welcome Center totals 5,600 square feet and serves as the new access point the for company's visitors.
The building's ribbon-cutting ceremony took place just last week as state and local officials joined the ESPN team to open the new Welcome Center.
2014 also will mark the grand opening of ESPN's largest building to date—the Digital Center 2. The state-of-the-art 193,000-square-foot facility will be the new home to SportsCenter. It will exceed the size of the current Digital Center, which stands at a mighty 136,000 square feet.