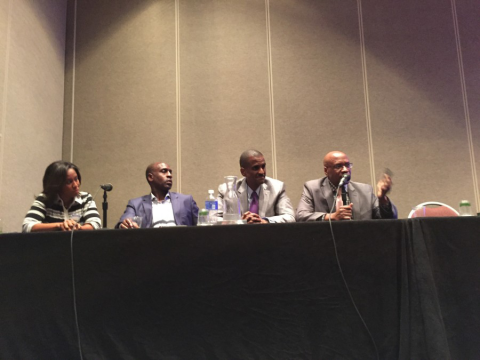 On August 8 in Minneapolis, ESPN won five 2015 Salute to Excellence Awards at the National Association of Black Journalists' (NABJ) 40th annual convention.
The winners included two citations for ESPN television, two for ESPN The Magazine and one for ESPN Radio. ABC News won three honors for national network television reporting for Spot News, "Decision in Ferguson," for feature short form, "Shades of Beauty" and This Week with George Stephanopoulos was honored in the Public Affairs: Program category for "Special Edition: State of Emergency in Ferguson, MO." The awards helped put a bow on the NABJ event that The Walt Disney Company and its properties, including ESPN and ABC, traditionally have supported. Walt Disney Parks and Resorts—primarily Walt Disney World Resort—has been a multi-year sponsor at NABJ at the gold and platinum sponsorship level, having sponsored and produced the opening night event for the national conference on numerous occasions.
Carole Munroe, Director of Public Relations for the Walt Disney World Resort, was named the recipient of the NABJ's Pat Tobin Award. The "Tobin" recognizes "trailblazers and bridge builders" in the media profession.
Why does TWDC have a presence at this and other such professional journalism conferences?
"Engaging with journalism and media conferences can be an efficient and effective way to interact in one spot with hundreds of media influencers, underscore our community involvement, recruit diverse top talent and gain direct feedback from the media themselves on how we can better work with them to drive the coverage we seek," Munroe said. "We also have an opportunity to create unforgettable Disney memories for conference attendees. I was 'gleeful' to see social media posts from NABJ attendees raving about the Epcot a cappella group, American Music Machine's performance, which Disney Parks provided for the conference's opening event. They were fantastic and represented the diversity of outstanding talent of among our Cast."
Disney's support of the NABJ is appreciated, outgoing president Bob Butler shared with ESPN Front Row. In 2016, ESPN and the NABJ will sponsor an internship with the sports network in memory of Stuart Scott, the longtime anchor who died earlier this year after a long battle with cancer.