On Friday, November 2, ESPN telecasts its first games of the 2012-13 NBA regular season with a doubleheader: At 8 p.m. ET, the defending champion Miami Heat visit the New York Knicks, followed by the Lakers-Clippers "Battle for LA" in Los Angeles at 10:30.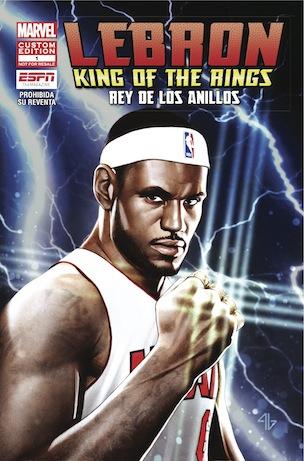 Miami star LeBron James began his quest for a second NBA title on Tuesday and fueled an interesting—and familial—collaboration between ESPN The Magazine and Disney-owned Marvel Comics. The Magazine's NBA Preview, published October 17, features a collector's item: a special Marvel Comics insert devoted to chronicling James' quest to reach his goal.
How did the Disney companies combine to produce "LeBron: King of the Rings?"
ESPNFrontRow.com's Carrie Kreiswirth interviewed The Mag's Deputy Editor Otto Strong and Senior Editor Ty Wenger for the backstory. In fact, this is just the latest ESPN and Marvel collaboration: During Tim Tebow's miraculous run as a Denver Broncos quarterback in 2011, the sister companies combined for another interesting look at an iconic athlete.