From the earliest days of sports television to the multimedia explosion of sports in recent years, ABC Sports and ESPN have been at the forefront of programming innovation and creative technology to serve fans.
There are numerous examples of these innovations over years. For instance, in 1998 ESPN was the first network to use "1st and Ten" during NFL games — a computer-generated yellow line that, to viewers at home, appears to be painted on the field. And for two generations, Wide World of Sports and ABC's "up close and personal" coverage of multiple Olympics defined sports television. ABC spanned the globe and presented the human drama of athletic competition. Fans saw more sports from more places in more ways than ever before.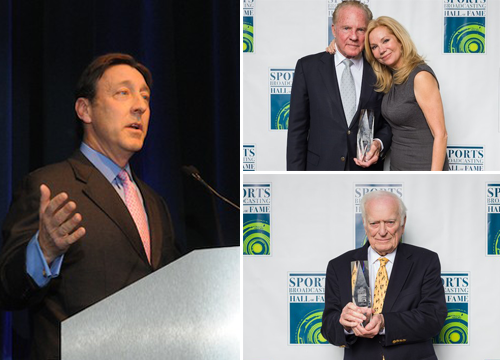 Tuesday in New York, three of the companies' iconic figures were among those inducted into the Sports Broadcasting Hall Of Fame's Class of 2012.
ESPN Executive Chairman George Bodenheimer and ABC broadcasters Frank Gifford and Jack Whitaker were among the eight people hailed in ceremonies conducted at the New York Hilton Hotel.
Bodenheimer has been with ESPN since 1981. Serving as company president from 1998 until 2011, he piloted ESPN to tremendous global growth and served as co-chairman of Disney Media Networks from 2004-2011.
In 1971, former NFL star Gifford became the play-by-play announcer for ABC's Monday Night Football and stayed in the role for 17 years. The Pro Football Hall Of Fame member also displayed his versatility covering the Olympics, skiing and various events for ABC'sWide World Of Sports.
Whitaker joined ABC in the 1980s after 21 years at CBS. He covered three Olympic Games for ABC and brought his expertise and insights to ABC News. He also covered the America's Cup for ABC and ESPN.
Check out Dave Nagle's coverage of the induction ceremonies on ESPN Front Row.