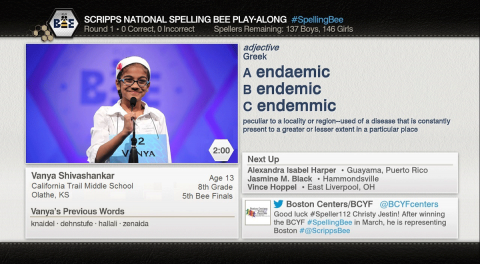 When America's best young wordsmiths compete in the 2015 Scripps National Spelling Bee Finals today and Thursday, viewers will be able "play along" via formats available on ESPN3 and WatchESPN platforms.
For the second consecutive year, those viewers can select from among three possible spellings of the word the student is contemplating. This year, the "Play-Along" presentation has been enhanced to give the viewer an immersive experience that will explain the word's origins, definition and more; in addition to relevant social media, the speller's bio also will be seen on screen.
What inspires ESPN's approach to presenting coverage of the Bee? Senior coordinating producer Ed Placey told ESPN Front Row that a game show that soared to its heights of popularity on ABC's airwaves years ago helps inspire the look and pacing of both ESPN's traditional and "Play-Along" coverage. Learn what that game show is and more by reading ESPN Front Row.