Walt Disney World Cast Member Anthony Payne was among the first to enroll in The Walt Disney Company's groundbreaking new education investment program, Disney Aspire, when it launched just months ago and now he is its first graduate. Payne, a "third-shift" custodial cast member, works through the night at Epcot, helping to make sure that the park looks its best when guests return in the morning; and he's also a father of three. "I was inspired to join the Disney Aspire program by my wife and children. They have always been my biggest motivation," Payne shares. "I've wanted to go back to school for about 15 years now, and I haven't heard of too many companies offering something as generous as this. I really feel like Disney is investing in our futures, and they're helping us to grow and follow our dreams."
Thanks to the flexibility the program offers cast members, as well as guidance from Disney Aspire coaches, the Navy vet completed his Heating, Ventilation and Air Conditioning (HVAC) certificate in record time, studying during his breaks at work and taking tests online. Payne is now working with his leaders to transition from his custodial role and continue on his Disney career journey. He hopes to leverage his certificate to make him a more competitive applicant for the multi-year HVAC apprenticeship program.
"I'm more confident in my abilities than I ever was before," Payne says. "I can't wait to use my skills, and advance as far as I can here."
Disney Aspire gives hourly employees and cast members the opportunity to get a college or master's degree, earn a high school diploma, learn a trade and more. Its goal is simple: Remove any and all roadblocks that keep our employees and cast members from meeting their educational goals.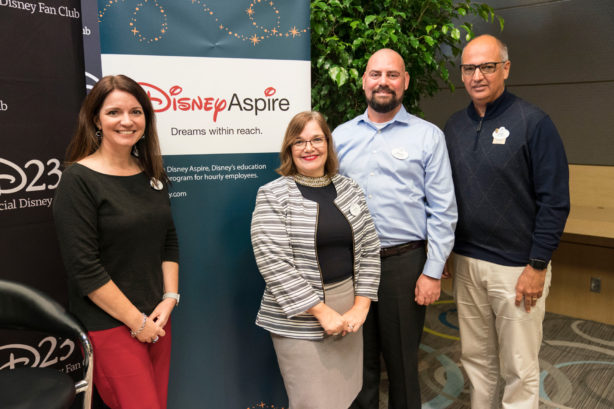 Leanne Morgan, a sales coordinator at Walt Disney World Resort, recognized the program's life-changing potential—both for herself personally, and for the more than 80,000 members of Disney's hourly workforce—when Disney Chairman and CEO Bob Iger announced the education program in January 2018. "Knowledge is so powerful, and he [Iger] wants every Disney cast member to pursue it," she says. Morgan's leadership team encouraged her to get her degree; she values their trust and considers herself "forever grateful" for the many opportunities Disney Aspire has presented her.
As she continues her academic endeavors with the full support of her leaders and co-workers, Morgan also finds inspiration closer to home. "I tell [my grandchildren] all the time, 'You must go to school! You have to like it,'" the grandmother of six explains. "I wanted to show them that I'm leading by example—I want them to be proud of me. By doing that, I want them to say, 'Wow, she not only talks the talk but she walks the walk.'"
eCommerce Sales & Service Agent Craig J. Plummer had wanted to pursue an MBA degree earlier in his life, but he was always daunted by the complicated application process. While he served in the U.S. Military, he worked as mid-level management and he wanted to reach that same career level in his current path at Disney. Now he can complete his education with ease, with assistance from Disney Aspire coaches who walk him through every step of the process.
Disney Aspire covers 100 percent of tuition upfront at any of the schools in the Disney Aspire network, and since the program pays for registration fees and textbooks, Plummer has the freedom to follow his ideal education path without worrying about outside factors holding him back. "They're showing confidence in us," he explains, "There's no obligation to take a degree in the job you're already in—you can choose where you want to go with your education. So, for the younger people who are just starting off and don't know what they want to do when they are higher up in the Company, this gives them the opportunity to work towards a degree."
"With Disney Aspire, we have aimed to design an experience that helps our employees imagine their futures and achieve their career goals," says Jayne Parker, Disney's Chief Human Resources Officer. "I'm so proud of this program, which provides participants the convenience, choice, high-quality and flexibility they need to be successful as they pursue their education."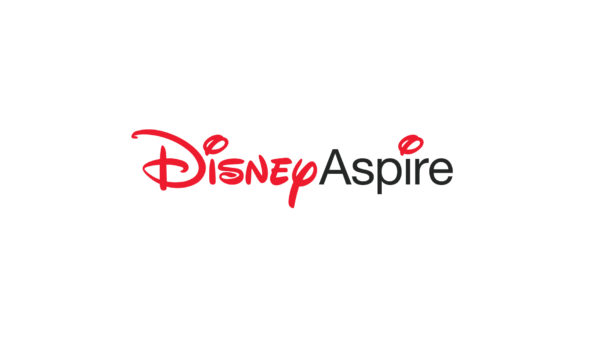 Florida's Valencia College is the newest school to join the Disney Aspire network, offering a variety of in-classroom and online programs of study that support the non-traditional working student, enabling participants to balance life, work and their educational pursuits. For employees who live in Central Florida, classes are offered online and in-person and include: Hospitality and Tourism Management; Nursing; Plant Science and Agricultural Technology; Business and Organizational Leadership; Hospitality Management; Restaurant and Food Service Management; among others. The addition of Valencia College is the next step in this continually developing program.
The impact of the Disney Aspire program expands beyond The Walt Disney Company itself: It's about Disney's footprint on the community—and Disney employees and cast members are an investment in that community. Disney Aspire provides employees an unprecedented opportunity to pursue a degree without obstacles and with consideration to each individual's needs and goals. As Disney Aspire progresses, we will continue to evaluate the program to add schools, courses and locations based on employee participation and interest, as well as the needs of the evolving workforce.
For more information, please visit Aspire.Disney.com.