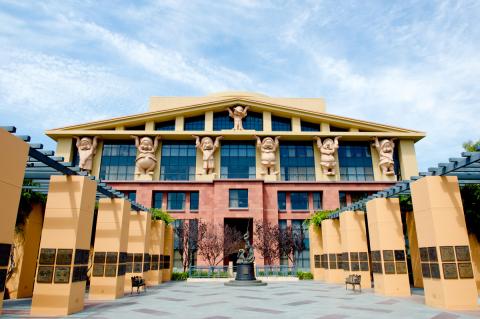 Today The Walt Disney Company proudly announced the eight remarkable contributors to the Disney legacy who will be named and honored as Disney Legends on August 14 during D23 EXPO 2015 at the Anaheim Convention Center.
The Disney Legends Awards program is a 28-year tradition of The Walt Disney Company that began in 1987, when Fred MacMurray (The Shaggy Dog, The Absent-Minded Professor, The Happiest Millionaire) was named the first Disney Legend. Including this year's honorees, a total of 257 Disney Legends have been named.
"The Disney Legend Award is our highest honor, and we are incredibly proud to recognize these eight talented individuals who have contributed so much to the world of entertainment and the Disney legacy," said Bob Iger, chairman and CEO, The Walt Disney Company. "Their vision and dedication to their work have brought joy to audiences around the globe and earned them a place in Disney history."
The 2015 Disney Legend Award honorees (listed alphabetically) are:
George Bodenheimer, who retired from his role as Executive Chairman of ESPN in May 2014, enjoyed a remarkable 33-year career that began in the company's mailroom in 1981.
Andreas Deja is one of the greatest animators of the modern era.
Eyvind Earle, one of the greatest of Disney artists, brought his unique style to a number of memorable projects but perhaps the purest realization of his vision remains the visual styling and backgrounds for the Disney classic Sleeping Beauty.
Danny Elfman provided the songs and score for The Nightmare Before Christmas, for which he also provided the singing voice of Jack Skellington.He also scored several Disney-produced films including Alice in Wonderland, Avengers: Age of Ultron, Dick Tracy, Dead Presidents, Flubber, Good Will Hunting (Oscar® Nomination: Best Score), A Civil Action, Instinct, Frankenweenie and Oz the Great and Powerful.
George Lucas, whose Star Wars films made him one of the most successful filmmakers of all time, is also a longtime Disney fan who has left an indelible impression on Disney parks.
Susan Lucci portrayed Erica Kane on ABC's fabled soap opera All My Children for 41 years, a role that TV Guide deemed unequivocally the most famous character in the history of daytime television, earning Lucci 21 Daytime Emmy® nominations to which she won the prestigious Emmy for Best Actress to an industry-wide standing ovation on her 19th nomination.
Julie Reihm Casaletto, who began her Disney career as a tour guide, became Disneyland's first Ambassador in 1965.
Carson Van Osten helped bring Disney characters to life in a variety of media, all around the world, for three decades. During Van Osten's tenure, he oversaw creative content for motion picture tie-in advertising, many Disney publications, and also established some of the first licensing style guides for Disney Consumer Products.
To learn more about the 2015 Disney Legends and the Disney Legend Awards, visit D23.com.