Dottie "Doc" McStuffins first opened the doors to her backyard playhouse clinic, where the six-year-old girl communicates with and heals stuffed animals and broken toys, in 2012. Four years later, Disney Junior's Doc McStuffins — which debuted its newest season on July 29 — is the winner of the prestigious Peabody Award, recognizing outstanding storytelling in electronic media, and two NAACP Image Awards (in 2015 and 2016) for Outstanding Children's program. The show has consistently been a Top 10 preschool cable TV series in key demographics, reaching 70 percent of Disney Channel's and Disney Junior's available Kids 2–5, while also averaging 16 million views each quarter on the Disney Junior app, VOD and HULU. Doc McStuffins has been ordered more than 20 million times via set-top-box in just the past year alone.
"One of the things that we spend a lot of time thinking about at Disney Junior is obviously making great shows that we think kids will enjoy and watch," Nancy Kanter, executive vice president, Original Programming, and general manager, Disney Junior Worldwide, said. "But we also think that bringing the messaging of those shows into kids' communities is incredibly important."
Disney Junior is bringing Doc McStuffins directly to fans in a brand-new way, through a touring museum exhibit that opened earlier this month, at The Children's Museum of Indianapolis — the largest children's museum in the world. "Right away, they demonstrated the passion, the vision and the expertise to make this happen," Jennifer Rogers-Doyle, vice president, Franchise Management, Disney Channels Worldwide, said about the Indianapolis museum. The exhibit is designed to model "care and compassion" for kids ages 2–7 in immersive activities that reinforce the importance of health and well-being. "Doc McStuffins: The Exhibit" will travel to other museums around the country beginning in 2017.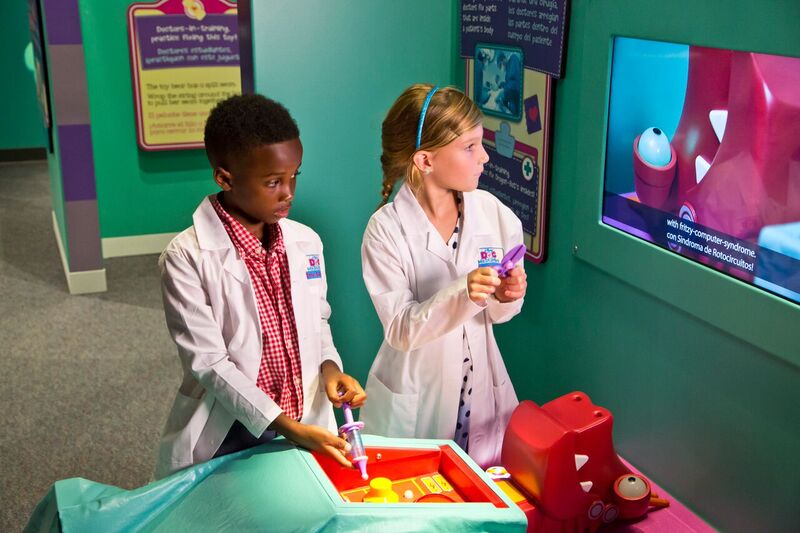 The exhibit is scheduled through 2019, with stops currently planned for the Discovery Cube OC in Santa Ana, California; Liberty Science Center in Jersey City, New Jersey, and Children's Museum of Atlanta in Georgia, to name just a few.
"Seeing the Disney Junior brand grow to be that trusted brand for preschool moms has really allowed us to take the storytelling from TV into this incredible immersive experience so that we can have a true impact on kids," Rogers-Doyle said. Watch this video for a look at how Disney Junior collaborated with The Children's Museum of Indianapolis to bring Doc McStuffins' messages of care, compassion and good health practices directly into communities across the country and to see how the exhibit is inspiring kids to learn more about good health practices and the importance of taking care of oneself and others: