''Today, the new Tinker Bell film The Pirate Fairy is available on Blu-ray Combo Pack and Digital HD. The fifth film in the popular Fairies series, The Pirate Fairy is a swashbuckling new adventure from Disneytoon Studios—one of three feature animation studios that call The Walt Disney Studios home.
With the same commitment to high-quality entertainment and original, creative storytelling as all of our filmmaking studios, Disneytoon Studios is unique in that it focuses on series-based films that frequently take place in and expand the worlds of other Disney films—like the Fairies films that live within the Peter Pan universe, and the Planes films, which began above the world of Cars.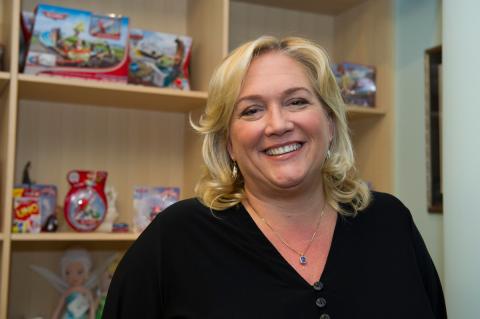 The studio is led by Disneytoon Studios Senior Vice President and General Manager Meredith Roberts, a 10-year Disney veteran with more than 20 years of experience in the entertainment industry. With today's debut of The Pirate Fairy and Planes: Fire & Rescueflying onto the big screen on July 18, Disney Post sat down with Meredith to find out what makes this studio so special.
How did you come to Disneytoon Studios? Had you always wanted to go into film and television production?
Since I was 13 I've wanted to be in the business. I grew up in a sort of golden era of television, and when I discovered that you could actually go to school and get a degree in creating television and film, it just seemed so awesome that people actually do this for a living. Before Disneytoon, I was leading Walt Disney Television Animation and had been tasked with transforming that division and, in doing that, caught the attention of John Lasseter and Ed Catmull, who were looking to do something similar with Disneytoon Studios.
What's the driving force behind the studio?
It's the commitment to quality, and the Story Trust process of peer review that's been put in place by John and Ed. At Disneytoon Studios, where we do series-based filmmaking, there's an expanded opportunity to apply learnings from one film to the one following it, so we can pay it forward, if you will. It's deep immersion in worlds and characters at this studio, and we get to expand mythology with each film we do. It's a unique challenge because each one is dependent on the others for success.
That's a really interesting aspect. How do you approach storytelling in these film worlds that people are already familiar with?
You don't want to be stale. You don't want to make a sequel because it's time to make a sequel. You want to make a sequel because you have an idea that warrants a second or a third film. Making great films is hard, and we want to elevate the storytelling and craft, so the fabric of those stories gets richer and has a deeper connection to the audience.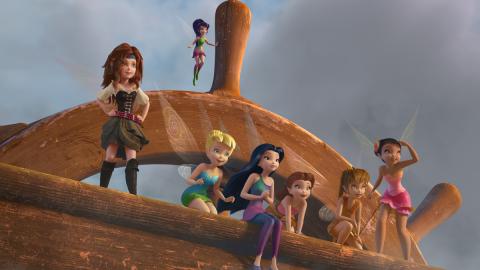 What makes the Tinker Bell films so popular with audiences?
I think Tinker Bell is a favorite for many people—she's certainly one of mine. The world of Fairies is so imaginative, and it's a really blissful world; it's an idyllic place where you'd want to spend time and meet these characters and see what they do. It is close to the heart and the imagination of people. And we stay true to the essence of Tinker Bell, in a way that feels organic to the mythology in Peter Pan.
Both the Fairies and Planes films feature incredible voice talent. How do you go about casting your films?
We aim high. We find talent for whom animation means something to them. Tom Hiddleston is in The Pirate Fairy—Peter Pan is one of his favorite films and he was delighted to be Hook, and he sang! The film stars Christina Hendricks, who is an incredibly talented actress. We've got Ed Harris for Planes: Fire & Rescue—it's his first animated movie.
What's the research process like for each film?
For Planes, there's plenty of practical research because actual vehicles exist. With Fairies, we've done a lot of homework at Disney's Animation Research Library. We want to know, what's been done before? What things were drawn that didn't make it into Peter Pan? We draw inspiration from the work of Marc Davis, the original animator of Tinker Bell in Peter Pan. With Secret of the Wings, which was our first movie dealing with snow and ice, we had a Caltech professor who's a snow expert come talk to us about how snow is formed, to help inform us on how that would influence a snow character.
What happens when a project gets stuck?
There's no blueprint for success—we all get stuck. Through the Story Trust process we try to create an environment where you can ask for help and people really give constructive criticism. The collective power of us is stronger than any individual. And what's great is that as people finish their film and have their own experience on it, they get to share the things that work for them.
What's the most important quality an animator or filmmaker can have?
They have to have curiosity, to move beyond the surface of an idea or subject matter and really do some research and explore all the angles. And they have to be open to feedback, because that's how our culture is built at all three animation studios.
What's something special that you like to do at Disneytoon Studios?
Once a month we celebrate the fine art of one of our artists in-house. It could be clay, it could be pencil sketch, ink. Disney has the best artists in the world.
What's your favorite Disney film?
I love Beauty and the Beast. That captured my imagination. There's so many that I love, but that's one of the special ones for me.