Moxie Peng was finishing their studies at New York University's film school when they learned about Disney's LAUNCHPAD program, which was created to diversify the types of stories that are being told and to give access to those who have historically not had it. Peng, who identifies as queer and nonbinary, recalls thinking, "I want to tell a story that's personal, that's interesting and will change perspectives." Their incredibly moving short, The Little Prince(ss), tells the story of Gabriel, a 7-year-old Chinese kid who loves ballet and becomes friends with Rob, another Chinese kid from school, whose father intervenes after becoming suspicious about Gabriel's feminine behavior.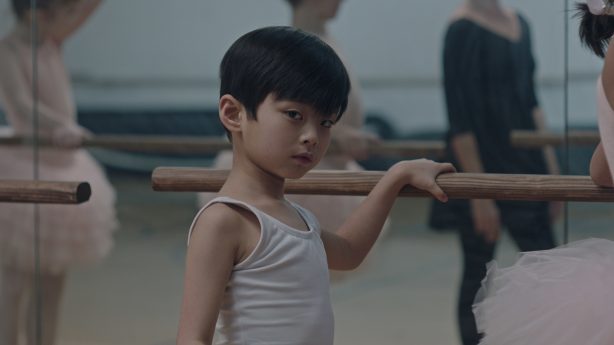 Growing Fangs is centered on Val Garcia, a Mexican American teen who is half human and half vampire. But when her human best friend shows up at her monster-infested school, she can no longer keep her identity a secret and must confront her truth, her identity and herself. Ann Marie Pace, who wrote and directed the short, also drew from real life to tell the delightfully relatable story. "This story was very personal, the fact that obviously Val is struggling with being half human and half vampire," Pace explains. "For me, what that was growing up was struggling being Mexican American and bisexual, and sort of living between these worlds and not quite feeling enough in either world. I had to learn through life that just because you're part of multiple identities doesn't make you any less that identity; and it all compounds and makes you fully who you are."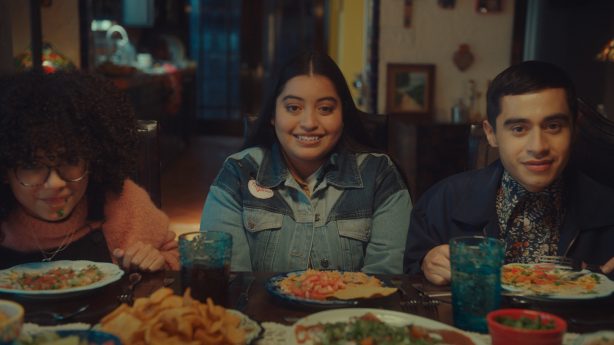 The first season of Disney's LAUNCHPAD shorts have all been inspired by life's journey and are told from the perspective of six talented new filmmakers. In addition to Peng and Pace, this season's cohort includes Aqsa Altaf, whose American Eid tells the story of a Muslim Pakistani immigrant who wakes up on Eid to find out that she has to go to school and embarks on a mission to make the celebration a public school holiday; Hao Zheng, who, in Dinner is Served, follows a Chinese student at an elite U.S. boarding school who realizes excellence is not enough when he tries out for a leadership position no international student has ever applied for; Stefanie Abel Horowitz, whose Let's Be Tigers finds a young woman grieving the recent loss of her mother and finding unexpected comfort and understanding from the 4-year-old boy she is babysitting; and Jessica Mendez Siqueiros, whose short The Last of the Chupacabras centers on a lone Mexican American struggling to carry on her traditions in a world where culture has nearly ceased to exist, who unknowingly summons a dark and ancient creature to protect her. All six shorts are available to stream on Disney+ beginning Friday, May 28.
"We fundamentally wanted to launch this program because at its core, we understood that the goal of our team is to make sure that those who have been left behind for so long in Hollywood now have a seat at the table and a place for their voice to be heard," Mahin Ibrahim, Director of Disney's Diversity & Inclusion, Market, who oversees the LAUNCHPAD program, explains. She acknowledges that for more than 100 years, many storytellers have been denied access to opportunities in Hollywood that would grant them real artistic control and power. "Disney, at its heart, is all about storytelling," Ibrahim says. "So what better way to give artists a seat at the table than through the power of them telling their own stories?"
The six inaugural filmmakers were selected from a staggering pool of more than 1,100 applicants. Phillip Yaw Domfeh, senior manager of the LAUNCHPAD program, who helped shepherd the films through production and post, notes, "The thing that I think is just at the heart of this program is heart, love and the desire to create impact." To maximize that impact, executive mentors from around The Walt Disney Company participated in the program, lending their expertise and support throughout the process.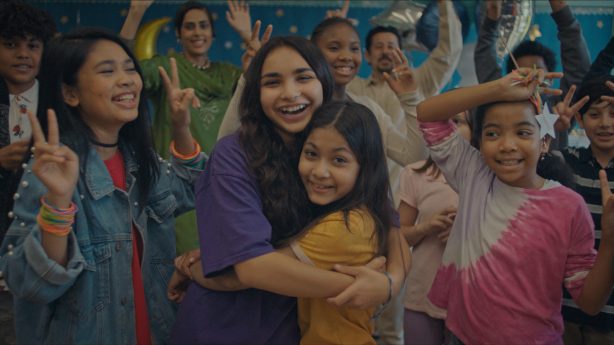 Altaf found her mentorship from Mary Coleman, Head of Creative Development, and producer Nicole Grindle from Pixar and Vanessa Morrison, president, Streaming, Walt Disney Studios Motion Pictures Production, to be empowering as she brought to life her short, American Eid. She shares, "They never told me, 'This is the story you need to tell.' They came on board, they saw what the story is and they helped me tell it as true to myself as possible. It was never a case of 'You should do this.' It was always, 'What are you trying to say? Let's try to say that as authentically as possible.'"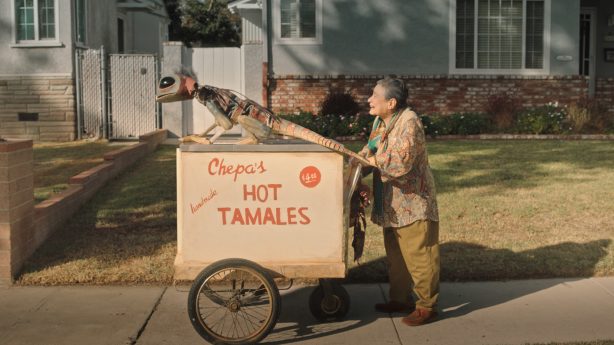 And, as is so often the case with mentorships, while the creative executives were giving their support to the filmmakers, they were also gaining unexpected rewards from the relationships. Karen Chau, Director of Development, Disney Branded Television, says, "LAUNCHPAD was really an incredible experience, and as a mentor I feel so lucky to have been part of something that feels like there is actually a shift in culture and perspective at this company. I have learned so much and honestly feel that I was the mentee just as much as I was the mentor. I hope that each and every development executive has the opportunity to be part of something that is dedicated and committed to bringing about genuine change within these antiquated institutions and systems. I learned that it is possible to go beyond the dialogue and to be part of the movement that is trying to move our company in a better direction."
In all, Ibrahim shares, approximately 100 people from The Walt Disney Company worked together to bring this first season of LAUNCHPAD to Disney+, and she's heard from so many that this is one of the most meaningful projects they've worked on. "These people work on the most amazing films that impact culture like none other," she points out. "When work becomes more than work and leads to purpose, that has been truly humbling to see."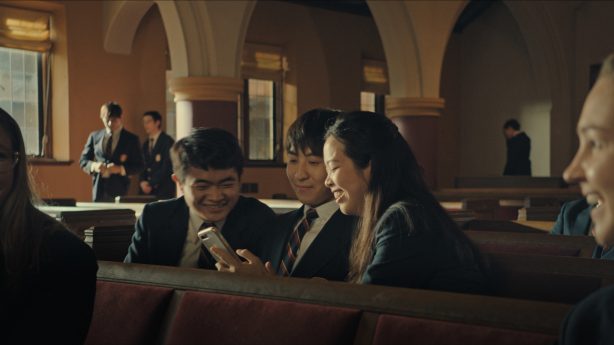 Season two of LAUNCHPAD will once again pair filmmakers with Disney mentors, but that's not the only matchmaking that Ibrahim and Domfeh will undertake. The new season will include a writers' track, making it possible for aspiring LAUNCHPAD filmmakers to apply as a writer, writer/director, a director with a script someone else wrote (so as a team) or as a director, enabling Disney to bring even more storytellers into the fold. Submissions are being accepted now through June 11 at LAUNCHPAD.Disney.com, with the narrative focus on the theme of "Connection." Domfeh emphasizes that the priority is to build teams to tell the best stories. "This program is teaching people how to work in a studio," he says, noting that more often than not, a writer and director are paired together by that studio. He shares, "I think that sparks are going to fly when that happens. I think that really just puts everyone batting out of the space where they just have 100-percent power."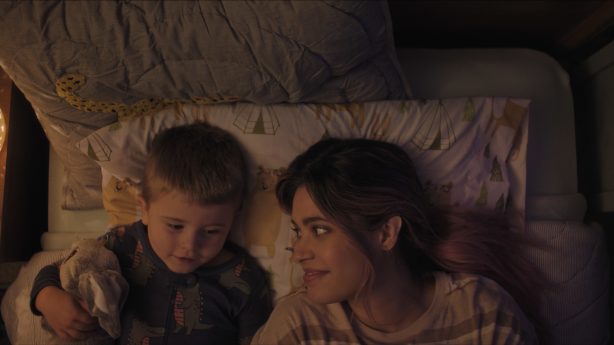 Ann Marie Pace, who applied to the program as a Disney employee working for Disney Channel, urges aspiring LAUNCHPAD filmmakers to really put themselves into the story they choose to tell. She says, "Be vulnerable in that aspect, because the first question they're going to ask is why do you connect with the story and why are you the person to tell it?"
"It's a collaborative effort, being a studio filmmaker. It's a collaborative experience. We're looking for people with unique voices and perspectives, but people who also are willing to work with others and build something new and beautiful with that," Domfeh says. And with nearly 100 years of storytelling excellence from Disney and incredibly dedicated and talented creative executives who are eager to help inspire the next generation of filmmakers, he emphasizes, "There's so much that we can offer and it's in that union that I think these amazing films are being made."