October marks National Bullying Prevention Month and Disney/ABC Television Group (DATG) has teamed up with nonprofits GLSEN, Pacer and GLAAD to promote ways kids and families can prevent and put an end to bullying in their communities.
DATG kicked off its "Choose Kindness" campaign at the beginning of the month on Good Morning America, and is encouraging youth and millennials around the country to be the best version of themselves. The initiative will include public service announcements (PSAs) that will air on ABC, ABC Family, Disney Channel, Disney XD, Disney Junior and Radio Disney throughout October.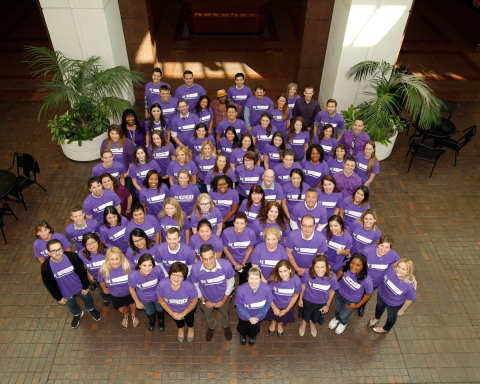 In honor of GLAAD's Spirit Day this Thursday, October 16, ABC Family and ABC talent will join the movement by "going purple" to speak out against bullying. Chasing Life stars Italia Ricci, Haley Ramm and Aisha Dee recorded a video to encourage fans to support LGBT youth with them, and the cast of Baby Daddy will splash their social media platforms with a purple theme as well.
Disney Channel and Disney XD stars have also provided their own points of view on demonstrating courteous and respectful behavior towards others as a virtue of good character through a series of spots. Catch stars like Sabrina Carpenter and Austin North sharing personal messages on how to make a difference by being kind throughout the month.
Alongside the spots, the network created special episodes of Austin & Ally and Girl Meets World to extend the campaign through some of its most popular programs. Each storyline is designed to reach kids with empowering, relevant stories while augmenting Disney Channel's themes of communication, diversity and optimism.
On the airwaves, Radio Disney is spotlighting PSAs that feature DJ Alex Angelo, the 14-year-old host of Radio Disney's Saturday Night Party with Alex Angelo. The station also teamed up with Club Penguin to promote the PSAs in video form.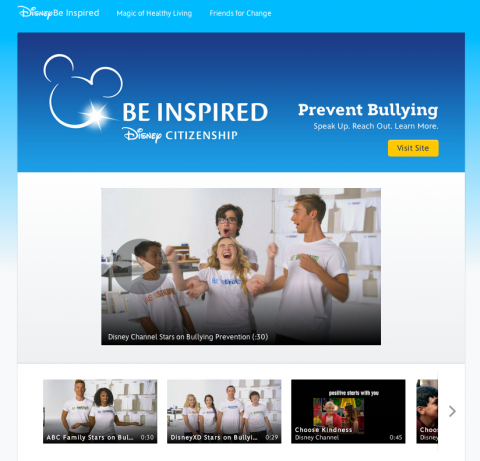 If you're on the go, check out Disney's Be Inspired website (Disney.com/BeInspired), where, this month, kids, tweens and parents can find information and tips on how to put an end to bullying.
No matter how you choose to start the discussion, we hope you can join the bullying prevention conversation to inspire your friends, peers and families all month long—and all year long.