"From day one, the experience and the relationship that Disney has offered us is better than anything I've ever seen."
James Petrakis—the owner of the Polite Pig at Disney Springs at the Walt Disney World Resort in Orlando, Florida—is just one small business owner who has seen his business transformed by the economic impact of The Walt Disney Company.
But he's not alone.
Walt Disney World Resort—one of the world's most popular vacation destinations—generated $40 billion in economic impact across the state of Florida and more than a quarter of a million total jobs in fiscal year 2022. That's according to a new study from Oxford Economics, which was announced on Tuesday.
The study noted that Disney—which has boosted Florida's economy, tourism, and small businesses for the last 50 years—has generated 263,000 direct and indirect jobs in the state. That's 1 out of every 32 jobs in Florida, including Disney's workforce of 82,000 across the state.
In fact, the study showed that without Disney's impact, Florida's unemployment rate would jump from 3% to 5.4%. The company also generates $6.6 billion in tax revenue.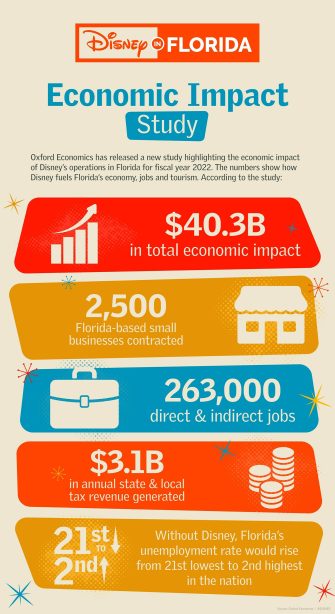 For Petrakis, his business is just one of the 2,500 Florida-based small businesses contracted to supply products and services to Disney World.
"Our business has grown in the last three years by about 25 to 30%," he said. "We are pushing numbers that we never expected out of fast casual."
The study—which was commissioned by Disney—also reflects the economic impact of Disney Signature Experiences in Florida, including Disney Vacation Club and Disney Cruise Line. However, Disney's impact is felt throughout a wide range of goods and services — everything from the painters who help maintain Cinderella Castle to the vendors who supply some of the treats in the parks.
"I am incredibly proud of how Disney has created meaningful change and benefitted people's lives in Florida for generations, not just in establishing our area's theme park industry, but also in how we have worked with other sectors across the state to do the same," said Jeff Vahle, President of Walt Disney World Resort. "The numbers speak for themselves on why Disney is so important to fueling jobs, the economy and tourism throughout our region, and the future investments we're looking to make will continue to provide even more opportunities for Floridians."
Disney also gives back to Florida nonprofits by contributing hundreds of millions of dollars throughout its history.
Last month, the company announced another round of donations totaling $1.5 million going to 19 organizations. In fiscal year 2022, Disney cast members donated more than 233,000 volunteer hours in Florida.
However, Disney's impact on small businesses isn't just on the east coast.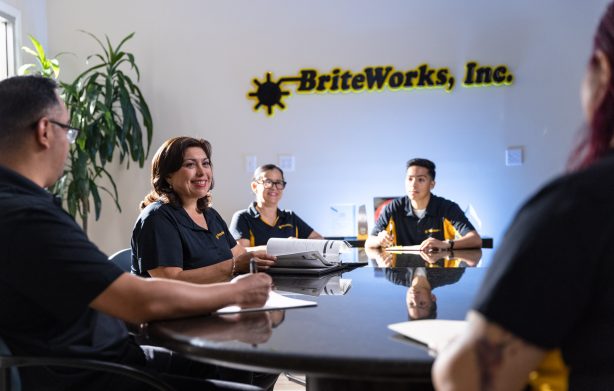 Anita Ron—CEO of California-based commercial cleaning company BriteWorks, Inc.—worked with Disney to help the construction clean-up efforts of Star Wars: Galaxy's Edge at the Disneyland Resort in Anaheim, CA.
"Working with Disneyland Resort has impacted our company because we created jobs," Ron said. "Working with Disneyland Resort helps us create more opportunities within our communities."
And as Disney continues to invest in Experiences, so does its investment in small businesses.
Disney announced in September that it's developing plans to accelerate and expand investment in its Experiences segment to nearly double capital expenditures over the course of approximately 10 years to roughly $60 billion.