Last week, 140 Disney VoluntEARS—a team that consisted of senior leaders, including Disney Chairman and CEO Bob Iger, Heroes Work Here veterans and Golden Oak Ranch staff members—helped transform an empty lot in Santa Clarita, California, into a kid-designed playspace in less than eight hours. Habitat for Humanity volunteers, along with local residents and organizers from KaBOOM!, also lent a hand to make the project come to life. Located on a campus that's home to veterans' families, the playground was designed to help former service members make the transition to civilian life.
The community's youth also contributed to the design of the space by creating drawings inspired by their favorite ways to play. The mini-artists can now enjoy the fruits of their labor, all while spending time outdoors with their parents, siblings and neighbors.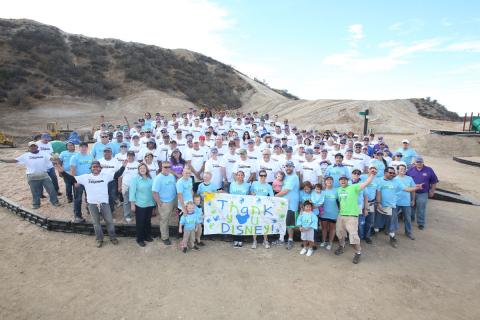 Through Disney's support, this playground will serve as a creative outlet aimed at inspiring and enriching more than 1,000 children in Santa Clarita. It will also provide visitors with a location to get active and balanced play, make friends and open their imaginations.
The project was made possible with support from Disney Magic of Healthy Living, an initiative encourages families to lead healthier and more active lifestyles. By the end of 2014, Disney's support will bring the magic of play to more than 75,000 kids and families.