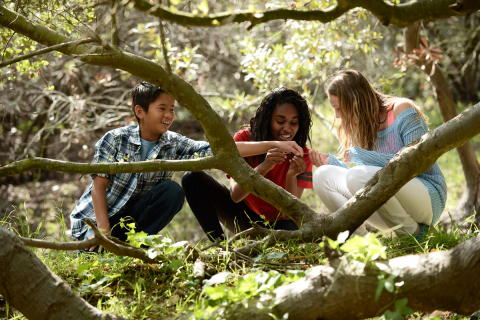 Conserving nature for future generations starts with inspiring today's youth to develop a connection to nature. In support of this, Disney announced a three-year collaboration with the National Park Foundation (NPF), the official charity of America's national parks, to get half-a-million kids into national parks by 2017. Disney will continue its role as lead sponsor of the Foundation's Open OutDoors for Kids program and support the Find Your Parkcampaign.
"The more kids are exposed to the great outdoors, the more they appreciate the beauty and wonder of nature," Kevin Callahan, vice president, Community Engagement and Strategic Philanthropy, The Walt Disney Company, said during the announcement. "Disney congratulates the National Park Service for opening the outdoors to kids and families for nearly 100 years. We are proud to work with National Park Foundation to make even more park experiences possible, inspiring lifelong conservation values for generations to come."
NPF Vice President of Corporate Partnerships Abbie Gibbs recently sat down with Disney Post to talk about collaborating with Disney to help families develop a lifelong appreciation for nature.
What does Disney's support represent for NPF?
Abbie Gibbs (AG): The National Park Service's vision for its second century of service is tied to the youth of today—connecting our parks to the children, teens and millennial who will be the leaders of tomorrow. Thanks to Disney's support in previous years, NPF has already helped give more than 100,000 young people their first experience in a national park. These experiences promote physical and emotional health, civic engagement and a long-term appreciation for nature.
How has Disney helped NPF connect kids and families with nature?
AG: As the founding sponsor of Open OutDoors for Kids, Disney has helped significantly expand and enhance programs that bring underserved youth and their families into the parks. Its support has helped identify the barriers kids face in finding their own parks, and breaking down those barriers.
Why is it important for kids and families to get outside and explore the great outdoors?
AG: Research shows that spending time outdoors is incredibly important to a child's development, and parks serve as some of our nation's most dynamic classrooms and centers for active learning for all ages. Children are more disconnected from their natural and cultural heritage than ever before, and experiences in national parks can help change that and build on a child's innate wonder and curiosity about the natural world and our shared history.