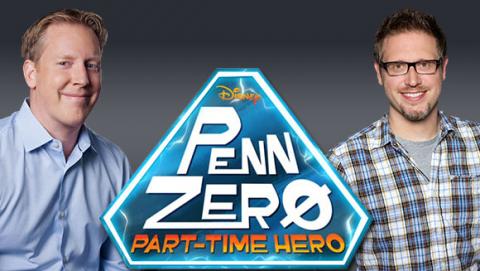 Ten years ago, Jared Bush started thinking about how cool it would be to jump into different worlds and different genres. It was a concept he always held onto and thought would make a great cartoon, but he just couldn't seem to get the idea fully baked in his mind.
"Who was going to [jump around] and when was that going to happen," Jared recalls asking himself. "How would we get to those different worlds?"
Enter Sam Levine. It was around four years ago that Jonathan Schneider, executive director, Development, Disney Television Animation, facilitated a lunch meeting between the two soon-to-be creators and executive producers of Penn Zero: Part-Time Hero, and they clicked instantly.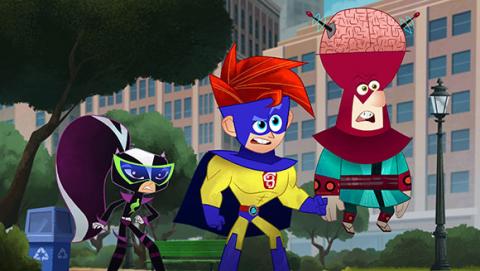 "It was like we were both on the exact same page with what the show could be, and Sam doodled a bunch of what Penn could look like and the worlds he could go to, and it was so dead on exactly what the tone in my head had always kind of been," Jared explained.
That lunch meeting served as the true launching point for Penn Zero: Part-Time Hero, which premieres Friday, February 13 (9:45 p.m. ET/PT) on Disney Channel and Disney XD. The series about a regular boy who inherits the not-so-regular job of part-time hero is rooted in the life experiences of both Jared and Sam. From using a theater to zap to different worlds, to Penn Zero discovering his part-time hero lineage, the creators tapped into their own lives to create a unique and personal foundation for the series.
"My dad's a projectionist in New York City," Sam said. "I spent a lot of my childhood in movie theaters, in the booth watching movies for free. These old theaters that my dad worked at [were] just a portal for me to go to different universes. With this show, using the theater as a literal portal to zap these kids to different worlds felt right, and Phyllis as a projectionist is loosely based on my dad."
Jared leaned on an eye-opening childhood revelation to help define the main character of the series.
"When I was a kid, I'd always heard that my dad worked for the government, and I was like okay cool, and I never really thought anything about it," he explained. "I was around Penn's age when my parents told me that he actually worked for the CIA, and P.S., your grandfather worked there as well, and maybe this is a job that you might want to have when you grow up, and I was like, 'What?!'"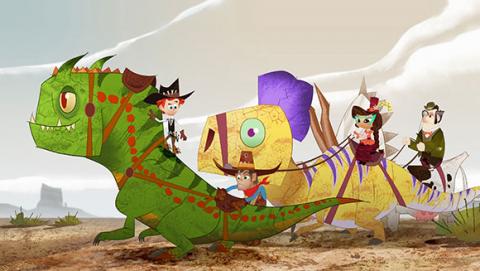 The way Jared and Sam combined those childhood experiences to create an incredibly inventive show speaks to their creative zeal, and their partnership is further cemented in their shared love of compelling characters and unlikely heroes.
"We both love character driven comedy, so we really wanted to lead with that character first," Sam said. "We both are kind of kids of the '80s and geeked out on all the movies from that period, and just the idea of going to these different worlds and playing in those genres appealed to both of us."
At the heart of the series is a set of characters that both Jared and Sam hope resonate with today's audience.
"He has two boys, I have three boys [and] playing make believe and sort of putting yourself into [different] worlds is something that we all love to do, and so [we have] a show where you can actually do that every week, hopefully with kids that feel like normal kids. We wanted Penn to feel like a dude who's not a great hero, he's not awesome at it. He has to figure it out and do it in his own way. It's not perfect and his friends are not perfect in everything they do. It feels hopefully like these are friends that any one of us could have going to those worlds and becoming those things," Jared adds.