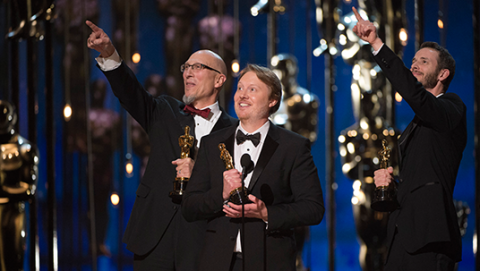 Sunday was a big night for Walt Disney Animation Studios, as Big Hero 6 was named Best Animated Feature and Feast earned the title of Best Animated Short Film at the 87th Annual Academy Awards®.
The double win was historic: This is the first time both categories were won in the same year by the same studio. It's also the second year in a row that Walt Disney Animation has won the animated feature category (created in 2001), after its first-ever win for Frozen in 2014.
Big Hero 6, directed by Don Hall and Chris Williams and produced by Roy Conli, has earned more than $546 million worldwide and will debut in its final international market, China, this weekend. Since opening in November, it has become the fourth biggest Walt Disney Animation Studios film of all time globally and the third biggest domestically.
Feast, which screened in theaters with Big Hero 6, marks Patrick Osborne's first time in the director's chair; he has worked as an animator on several film and TV projects at Disney and most recently headed animation for the Oscar®-winning short Paperman. Feast producer Kristina Reed also produced Paperman.
With the exception of Chris Williams, who was nominated for Bolt, this was the first Oscars nomination for all of these filmmakers. Congratulations to Chris, Don, Roy, Patrick and Kristina, along with the whole Walt Disney Animation Studios team!