Spot it. Stop it. Share it. Own it.
The four actions above are part of the important conversation we're having about bullying prevention this month at Disney. If you didn't know, October marks National Bullying Prevention Month. From our digital platforms to philanthropic grants, we're supporting this issue company-wide in many ways.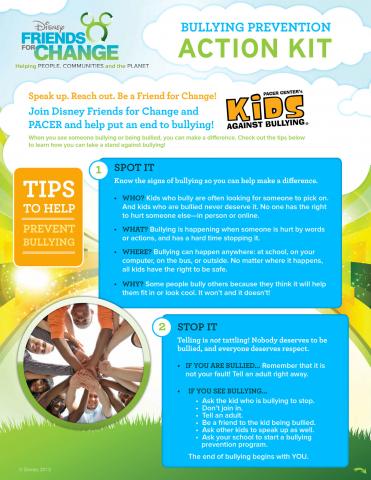 We started off the month by providing a $100,000 grant to PACER, a leading nonprofit organization whose efforts connect students and communities across the U.S. with innovative resources to address bullying. We also developed a Bullying Prevention Action Kit—a tool that provides helpful information about how to spot and stop bullying. The action kit shares tips on how families can spread the word and get involved in making a difference. Visit Disney.com/Friends to find ways to continue the bullying prevention conversation in your own community.
On Disney Channel, the latest round of Disney Friends for Change interstitials showcase several of the biggest names on TV and their thoughts on how to prevent and stop bullying. This month, viewers will also meet Connor, a 16-year-old West Jordan, Utah, student who counteracted bullying by developing a unique idea to spread kindness at his school on a new installment of the short-form series "Make Your Mark."
ABC and ABC Family are lending a hand to spread awareness about bullying prevention as well. By airing public service announcements, audience members of all ages can see some of their favorite celebrities champion this cause—like Pretty Little Liars star Keegan Allen who showed his support for Unity Day.
Throughout the summer, we worked with Free the Children to sponsor a series of free multi-day leadership camps, where students participated in activities that taught them leadership and bullying prevention skills. Another leadership camp took place this month at Camp Hollywoodland in Los Angeles, California, where Raini Rodriguez from Disney Channel'sAustin & Ally made a special appearance. Stay tuned to Disney Post in the coming weeks, as we'll give you a glimpse of the experience in a new Disney Friends for Change spot.
Whether it's online, on-air or in your community, we encourage you to join Disney Friends for Change in discussing this important issue not just this month, but also the entire year.