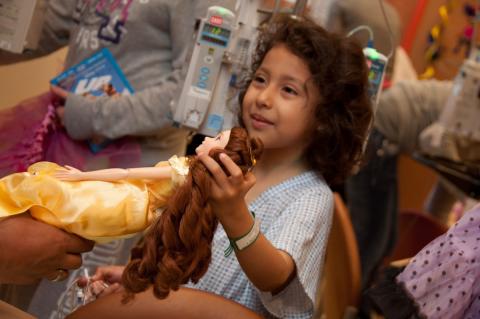 For millions of fans around the world, our Company is synonymous with great storytelling. We've continued this tradition for more than nine decades as Disney's library of characters, movies and products inspire people of all ages to wish, dream and believe.
This time-honored legacy is especially important to us because of the uplifting impact that our characters and stories have on kids and families when they need it most. Each year, more than 600 Child Life Council programs, children's hospitals and hospices around the world receive Disney hospital care packages for the children they serve. Filled with Disney toys, DVDs, books, Club Penguin memberships and a new Marvel custom comic book, these care packages help promote therapeutic play and provide a sense of comfort and normalcy to children during their hospital stay.
We are proud to host screening parties and hospital visits by Disney VoluntEARS and characters to bring a little extra comfort and smiles to these special patients, and grant money to support the great services that these hospitals provide.
Our guiding philosophy has been to act as a compassionate and generous company, and we are truly honored to do so when it matters most.