Yesterday in New York City, The Walt Disney Company showcased a slate of amazing content that will be coming to ABC, ESPN, Freeform, FX Networks and National Geographic networks in the coming months as part of a first-ever combined Upfront event for Disney's full suite of ad-supported platforms.
The Disney 2019 Upfront Experience comes just over a year after the Company's strategic reorganization brought together advertising sales, technology and content distribution within the Direct-to-Consumer and International business. In that time, Disney has made significant investments in data and technology that help advertisers directly reach consumers wherever they are and however they are accessing Disney-branded content.
"In this era of unbelievable choice, brands matter more than ever, and we have the best—ABC Entertainment, ABC News, ESPN, FX, Freeform, Disney, National Geographic and, of course, Hulu. Taken together, these brands have an unmatched ability to connect deeply with audiences," said Kevin Mayer, chairman, Direct-to-Consumer and International, in his welcoming remarks.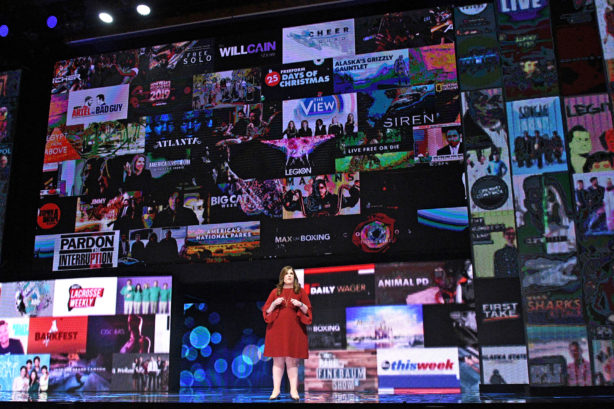 Collectively, Disney's suite of brands had more than 4 billion engagements across Facebook, Twitter and Instagram over the past year. "We are driving culture and we're driving conversation," said Rita Ferro, president of Advertising Sales for The Walt Disney Company. Consumers spent more than 45 billion hours consuming stories across Disney's ad-supported platforms, with content viewed by more than 275 million people—and half accessed the Company's content on digital and OTT platforms.
During yesterday's presentation, leaders and top creative talent from across Disney's brands unveiled a host of new series that reflect the Company's ongoing commitment to groundbreaking storytelling.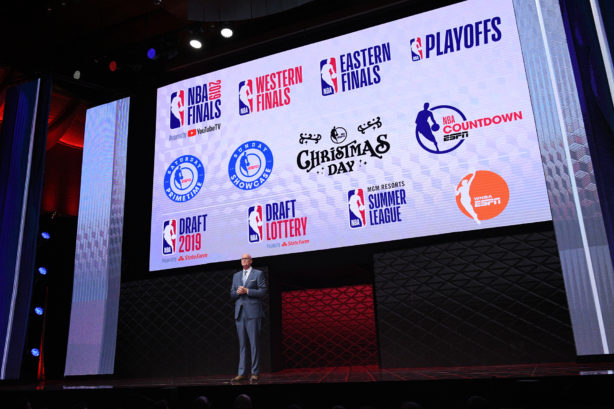 ESPN anchor Scott Van Pelt noted, "We drive the conversation every day. We take fans on a journey that culminates in a great live event every night." ESPN's unparalleled lineup up of daily sports content, which is bookended by the morning show Get Up and the late-night SportsCenter, is driven by three priorities—expanding its audience, innovation and quality storytelling—all of which are fueled by a love of sports. ESPN is growing its audience by reaching them in new ways, such as live events available on platforms such as Snapchat and Twitter. Innovation takes many forms at ESPN, from the digital streaming service ESPN+ that launched in 2018, to yesterday's announcement of ESPN's partnership with Caesars Entertainment to bring sports betting news and entertainment content to fans around the world. And ESPN's dedication to telling stories that resonate has driven the success of series such as 30 for 30 and E:60, and is at the heart of the upcoming 10-part documentary series The Last Dance, which looks at the incredible story of Michael Jordan and the 1990s Chicago Bulls.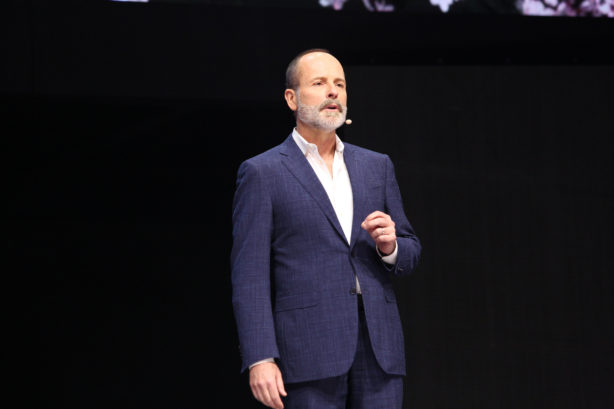 "FX is the home of the boldest, most acclaimed programming for adults," said John Landgraf, chairman of FX Networks and FX Productions, noting that in the last five years, FX has won more Emmy® Awards than any other ad-supported cable network, and that no network has won more Golden Globes® or AFI Awards during that time. FX will continue to deliver scripted programs that are "the best of the best," and Landgraf looked ahead to a new season of the Emmy-winning series Fargo, which debuts in early 2020, as well as two new series, Mrs. America, a limited series that explores the battle over the Equal Rights Amendment, starring Oscar® winner Cate Blanchett, and DEVS, a drama from writer/director Alex Garland (Ex Machina, Annihilation).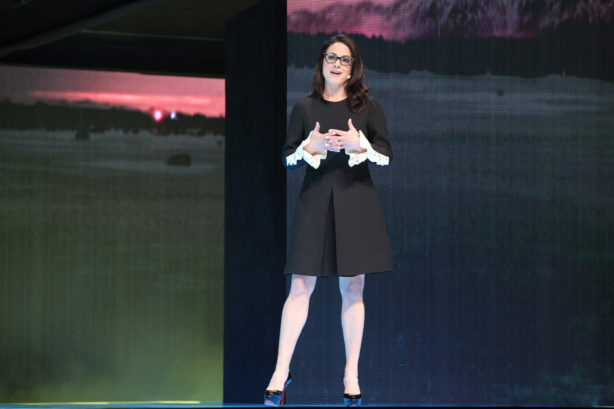 National Geographic Global Networks President Courtney Monroe emphasized, "Pushing boundaries is at the very heart of National Geographic," a 131-year-old brand that she noted is also the No. 1 brand on Instagram. The National Geographic Channel is reaching for new heights through an exciting slate of new series. A reboot of the hit series Brain Games will premiere December 1 with Keegan-Michael Key (Toy Story 4) as host. The travel-adventure series Gordon Ramsay: Uncharted will celebrate the uniqueness of global culture through food. And the scripted series Genius: Aretha will chronicle the incredible live of Aretha Franklin, the universally acclaimed "Queen of Soul."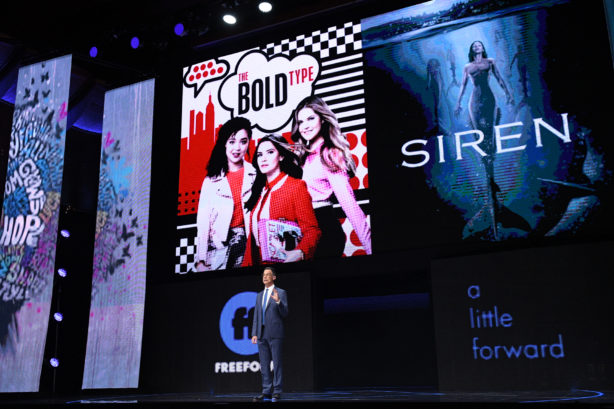 Freeform's authentic and inclusive programming continues to resonate with young adults and women 18–34. It is the No. 1 most social cable network this year, and also ranks highest in digital viewing. Freeform President Tom Ascheim shared first looks at three new original series—Motherland: Fort Salem, Party of Five and Everything's Gonna Be Okay—which all hold true to the network's brand promise to deliver provocative and bold original content that champions the force and momentum of its young adult audience. The 2019–20 season will also bring fan-favorite holiday programming back to Freeform as part of the network's annual 31 Nights of Halloween and 25 Days of Christmas events.
Ascheim stated that the network has built its brand by emphasizing two key strengths: "A keen understanding of our audience and a carefully curated body of creative work. We've pushed the boundaries of convention and inclusion and we have no intention of slowing down now."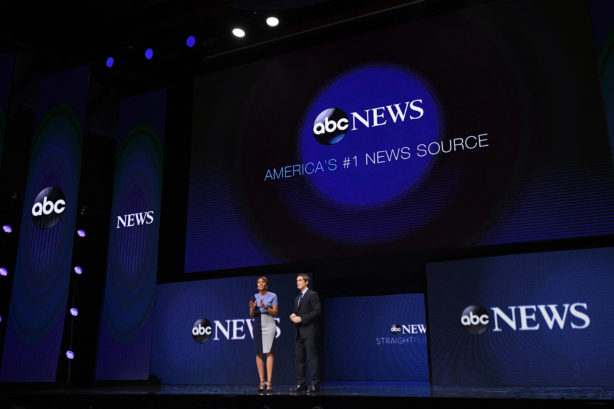 ABC News anchors Robin Roberts and David Muir spoke of the connection they have with viewers who frequently wake up with Roberts and her fellow Good Morning America anchors and tune in to World News Tonight with Muir as their days draw to a close. In addition to a reimagined 20/20, ABC's primetime weekly news magazine, the anchors look forward to ABC News leading the way throughout the 2020 presidential election. Muir said it's important "to find a way—every single day on ABC News—to signal to everyone at home that we have more in common than what separates us."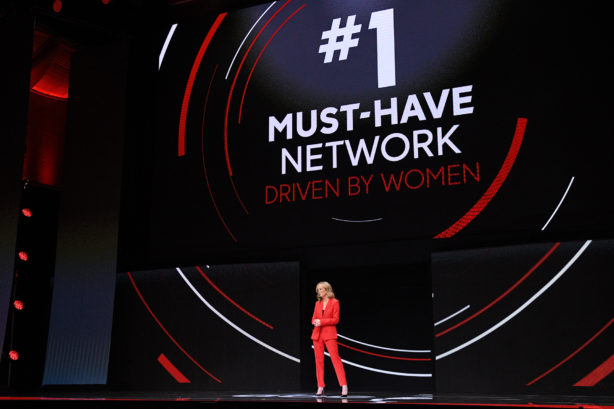 ABC Entertainment President Karey Burke announced the most stable schedule in more than a decade for the network, which has been the ratings leader since the beginning of the year. ABC's 2019–20 programming slate is rich with well-established, popular series as well as engaging new programs featuring bold characters and storytelling. Three new series will debut in the fall—the dramas Emergence and Stumptown, along with the comedy mixed-ish, a spinoff of the long-running hit black-ish—while midseason will bring two additional dramas, The Baker and the Beauty and For Life, as well as the new comedy United We Fall. A reinvention of the classic show Kids Say the Darndest Things, hosted by Tiffany Haddish, will also premiere this fall. The 2019–20 season will also see the return of the top-rated dramas Grey's Anatomy and The Good Doctor and the No. 1 new comedy, The Conners—all of which will kick off new seasons this fall.
"This is what ABC has always meant to me: programming that is trailblazing, thought-provoking and entertaining; shows that stay with you and characters that stand the test of time," Burke said. "In great years and even just in good years, the biggest and best shows, movies and special events on ABC have always led—they've never followed. That was as true then as it is now."