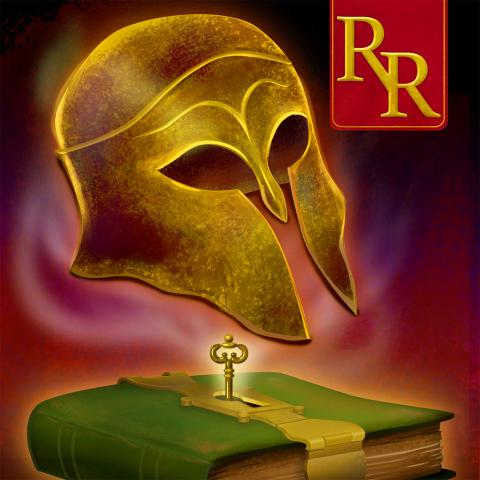 As the world's largest publisher of books and apps for children, Disney Publishing Worldwide has a roster of literary talent that has delighted kids and teens with their stories and characters.
Middle-grade author Rick Riordan had a fantastic year in 2014.The Lightning Thief, made into a very successful off-Broadway show for kids, was named by TIME magazine as one of the best 100 young adult books of all time. The August publication of Percy Jackson's Greek Gods saw the book hit the top of the New York Times middle-grade best-sellers list right out of the gate and was promoted with a once-in-a-lifetime "live from Mt. Olympus" event broadcast from the Empire State Building. The book was a perennial favorite for holiday gift giving and jumped back to the No. 1 spot again just before the end of the year. But the watershed moment for fans was the publication of The Blood of Olympus, which came out in October and was one of the most eagerly awaited books of the year.
The Blood of Olympus hit No. 1 on the USA TODAY best-seller list across all formats. The book also topped Nielsen's BookScan, Publishers Weekly and the New York Timeschildren's series best-seller lists. And Rick did more events than ever before with sold-out shows and standing-room-only audiences with upwards of 3,000 people eager to hear him talk about the end of the Heroes of Olympus series. He closed the streets down in Boston, had fans camping out overnight in Santa Barbara and, in some markets, people even tried to hide back stage for a chance encounter with him. We had fantastic events with the New York Public Library tying in with 25 metropolitan branches throughout the New York area and a wonderful event with Apple at its Soho New York store, where Rick was interviewed by Maria Russo, the children's book editor of the New York Times Book Review. It was a banner year, indeed!
And 2015 is starting off with a bang as fans have another chance to access even more great content in an all-new story written specifically for the Demigods of Olympus app. Starting today, "My Demon Satyr Tea Party" will delight fans and help them determine their own demigod skills, so they too can embark on a brand-new journey. Demigods of Olympus is also an online e-book library of all of Riordan's mythology works, as well as exclusive new interactive stories. The app is available now for iOS on the App Store and for Android on Google Play.