Last month, The Little Mermaid Diamond Edition Blu-ray™ was released, along with a vast line of new products from Disney Consumer Products (DCP) to celebrate Disney Princess Ariel. The new product collection draws inspiration from Ariel's spirited, adventurous and determined personality and features items for collectors, little princesses and adult princesses from dolls and role play to beauty and fashion. We're taking you behind the scenes to learn more about the inspiration, design and product development process. I sat down with Dave Pacheco, creative director, DCP, to get a closer look. Not only has Dave worked for the Company for more than 30 years, but he also had the opportunity to work as an animator on The Little Mermaid in 1989. Let's dive right in!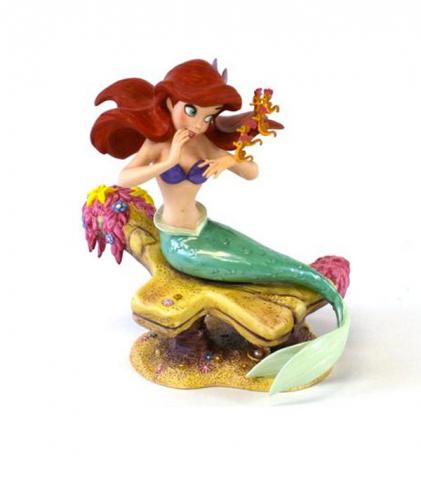 What has been one of your favorite Ariel products you have worked on?
For more than 20 years, I worked on the Walt Disney Classics Collection of figurines and that's something I'm really proud of because it's what I wanted to do as a kid. When I was younger, I would repaint the books and figurines that my parents would buy me so that they were true to the look of the films. On our first Ariel sculpture, we included a set of real cultured pearls into the shell's base.
What's one of the biggest challenges you faced when transforming Ariel from an animated character to an actual product?
Storytelling is one of the biggest challenges with 3D products. You have to decide which materials you're going to use for her hair, tail and fins, what props she will hold and all the other details that surround her. You only have one chance to tell the story and capture that emotional connection.
What has been your favorite role in the product development process?
Having the opportunity to research and dig through our vast archives to see original art and product that was developed decades ago. Then applying and updating the same principles to what we do today.
What's one of your favorite parts of your job as you work with up and coming artists?
My favorite part is playing a mentor role and helping inspire other artists and designers. I feel that it's important to remember the roots of the Disney characters. This really adds strength to the craftsmanship of the work we produce.