Today Disney•Pixar's highly anticipated Incredibles 2 makes its super debut in U.S. theaters. Picking up mere minutes after the memorable events of 2004's The Incredibles, the new film not only reintroduces audiences to the Parr family (dad Bob, aka Mr. Incredible; mom Helen, otherwise known as Elastigirl; and super kids Violet, Dash and Jack-Jack), but also reestablishes the unparalleled mid-century modern world of the original film.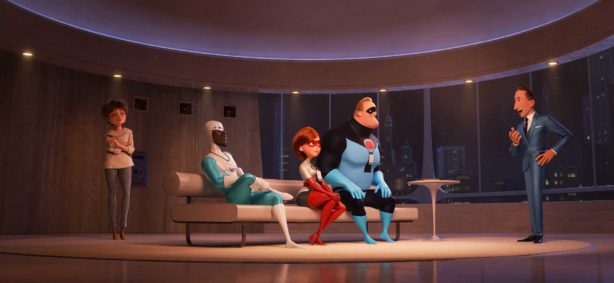 "I was inspired by spy series and spy movies," explains director Brad Bird. "James Bond, Mission: Impossible, The Man from U.N.C.L.E., Our Man Flint, as well as a prime-time adventure cartoon called Jonny Quest. There were a bunch of them… that had that cool, elegant flavor that we wanted to capture." That flavor extends from the cars to the gadgets, from the clothing to the characters themselves, and everything in between—all with a present-day bent and a steadfast eye to the future.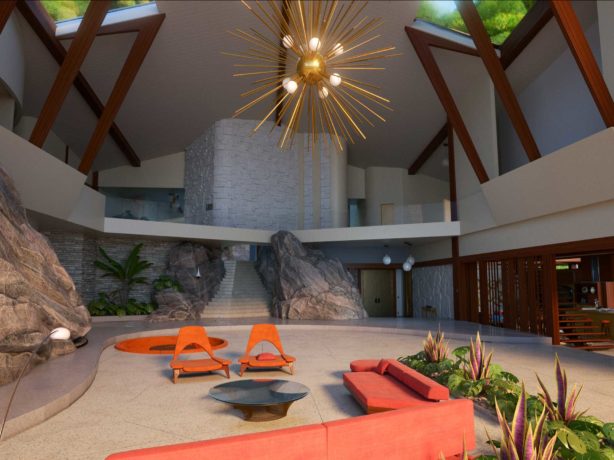 Nowhere is this continued "mid-century with a twist" quality more evident than in the architecture and interior design of Incredibles 2. Garnering inspiration from a research trip to the mid-century haven of Palm Springs, California, production designer Ralph Eggleston and his team set about designing with clean lines and simplicity. "We had this really fun idea of 'mid-century mundane,'" explains Eggleston. "It's not the coolest buildings, but the stuff in between the coolest buildings. So we used a lot of [that] in the design of the city of Municiberg." Inspiration came from all manner of avenues; "It's actually easy to find great-looking mid-century architecture," Eggleston admits. "It's harder to find stuff that is less identifiable—little elements here and there, like 'breeze blocks' [concrete cinder blocks] and repeated patterns. [Finding those] is a lot of fun." The team's overall approach was also informed by a host of mid-century luminaries and their creations, including the work of architectural photographer Ezra Stoller; patterns designed by Alexander Girard; furniture from the artists at Knoll, Inc.; sculptures by Harry Bertoia; and the designs of modernist architect Mies van der Rohe.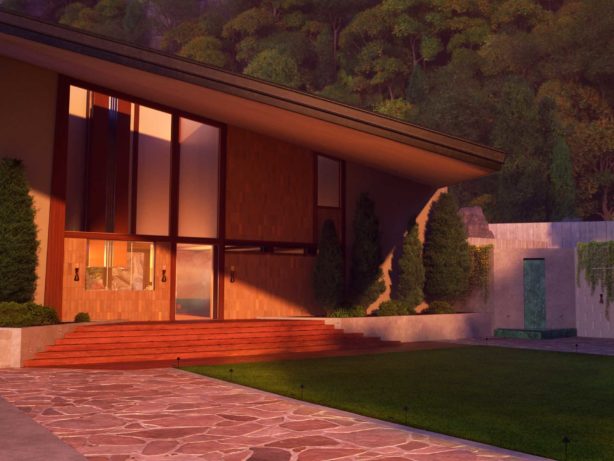 There's a specific building in Incredibles 2 that exemplifies the aesthetic Eggleston and team worked so hard to create: the Parr family's new home. Considering their last abode was destroyed at the end of the 2004 film, the Parrs would need a new place to hang their hats… or, more specifically, their super suits. Early on, Pixar artists delivered a lovely 2,300-square-foot house to director/writer Bird—but once the story called for a larger, state-of-the-art home (one that two of the film's new characters, telecommunications mogul Winston Deavor and his genius sister Evelyn, would be providing to the family), the sky was literally the limit. "It's a cantilevered house built on a precipice outside of the city," says Eggleston. "Inspired by a rocket, with influence from a lot of different architects, we wanted a heavily caricatured look." However, it wasn't just the house itself—with its multiple entrances; bedrooms galore; an amazing kitchen; and a living room complete with hidden water features—that continues the mid-century through-line, it's also the distinctive, finer details scattered throughout its expansive 38,000 square feet of virtual space. Case in point: the home's terrazzo floors. Says shading art director Bryn Imagire, "I really love terrazzo floors. Because it's such a big element—in any kind of aggregate material, in mid-century [design], they'd use rocks embedded in grout or marble or stone—terrazzo was a really expensive material back then, and today it would also probably cost lots of money to do it right. And so we felt that, because the house is so fabulous, we're going to put terrazzo everywhere." Natural materials and muted colors also make appearances, as do plentiful houseplants—"the Eastern idea of 'bringing the outside in,'" Imagire says.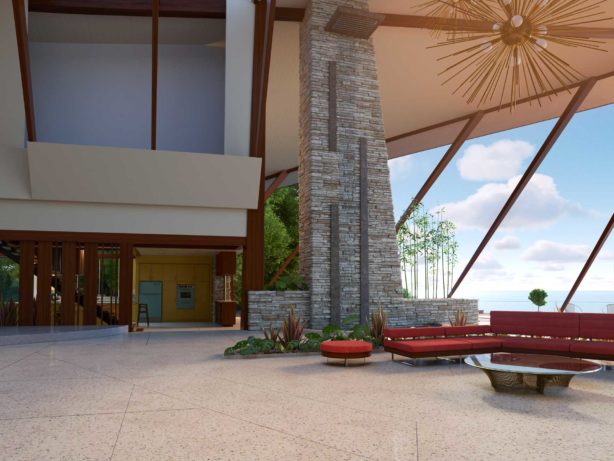 All told, "[In animation], it's all built from scratch," Eggleston explains. "We aren't trying to capture [an era], but people's memory of the era… Brad's writing of characters and his storytelling skills are such that it allowed us to really caricature the world. It's not about reality. It's about believability."
Disney•Pixar's Incredibles 2 is in U.S. theaters today.