Continuing a remarkable 35-year tradition, The Walt Disney Company today honored 14 incredible talents as Disney Legends in a special awards ceremony hosted by journalist, talk show host, and author Tamron Hall at D23 Expo 2022 presented by Visa® in Anaheim, California. Additionally, Bob Chapek, CEO, The Walt Disney Company, took the opportunity to kick off Disney 100 Years of Wonder—an extraordinary celebration 100 years in the making.
"I can't tell you what an honor it is to lead this company at such an exciting moment in its history," said Chapek. "And that moment, of course, is our year-long celebration of Disney's 100th anniversary. We're going to be pulling out all the stops to honor a century of groundbreaking Disney storytelling, experiences, and magic—along with all the dreams they've inspired and the memories that they've created for countless families and fans… As we begin a second century of telling stories and creating magic—of connecting people from all walks of life, and making magic that will endure for the next 100 years—this is a historic and unprecedented milestone."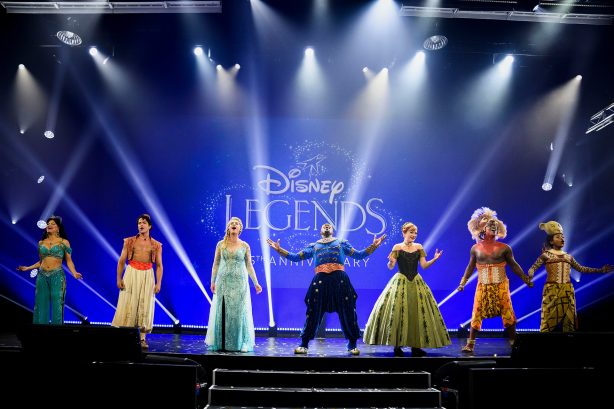 He continued, "We're imagining a future where Disney+ isn't just a streaming platform, but a platform for next-generation storytelling that blends physical and digital worlds in ways that only Disney can; where one can personalize and customize their experience; a future where sports viewing isn't just a passive experience, but a chance to be part of the action; and a future where theme parks break through the physical and technological boundaries of today, to create experiences that defy expectation and explanation."
Throughout Disney 100 Years of Wonder, the Company will celebrate with new 100th anniversary content, experiences, and programming—including a brand-new traveling exhibition visiting locations around the world, Disney100-themed park experiences, a new feature film from Walt Disney Animation Studios, and much more. "And it all gets started with a bang at the end of this year," said Chapek, "during ABC's Dick Clark's New Year's Rockin' Eve with Ryan Seacrest." Coming January 1, Disney100.com will highlight the past, the present, and the future of The Walt Disney Company—and chronicle the yearlong celebration.
The Disney Legends Awards ceremony served as a sensational start to D23 Expo 2022—three days celebrating all the creativity and innovation that drive The Walt Disney Company's storytelling. The event brings together all the worlds of Disney under one roof, allowing Disney's most enthusiastic fans to meet and hear from the astounding talent behind the Company's latest and greatest movies, series, theme park attractions, and so much more.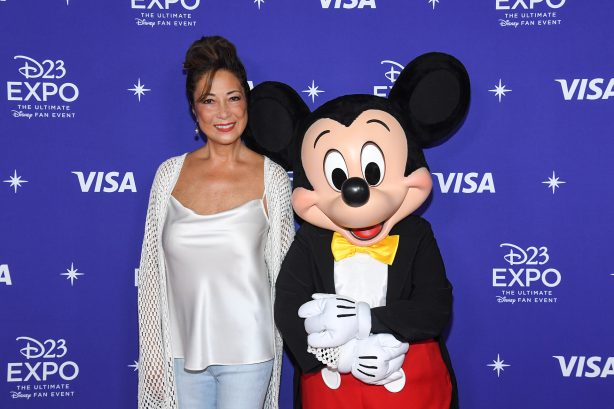 Tracee Ellis Ross, star of ABC's critically acclaimed series black-ish; Frozen's Idina Menzel, Kristen Bell, Josh Gad, and Jonathan Groff; and late Oscar®-nominated actor Chadwick Boseman were among those honored this year for making significant contributions to the Disney legacy—and who now take their place alongside icons including Oprah Winfrey, Marty Sklar, Dick Van Dyke, and Angela Lansbury.
Chapek took a moment to acknowledge several past Legends in the audience, saying, "For your incredible contributions, your artistry, your imagination, your gifts, your spark, we truly value all of our Disney Legends."
The 2022 class of Legends—in addition to Boseman, Ross, and the Frozen four—includes animator, producer, and documentarian Don Hahn; Ross' black-ish costar Anthony Anderson; Robert Price "Bob" Foster, who was instrumental in the development of Walt Disney World Resort; stars Ellen Pompeo and Patrick Dempsey from ABC's long-running medical drama Grey's Anatomy; longtime Disney music executive Chris Montan; and Walt Disney Imagineering creative directors Doris Hardoon and Rob't Coltrin.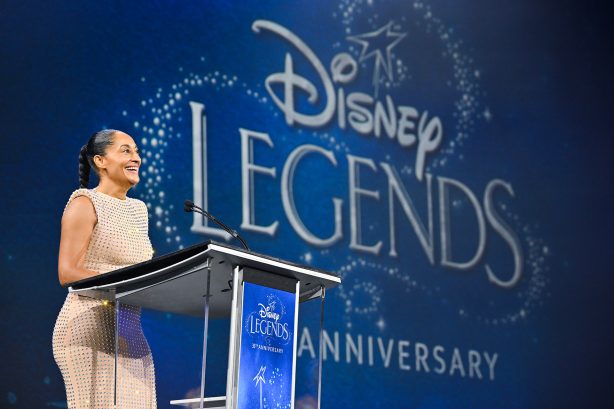 "For me, a 'legend' is someone whose work makes more space for others to be more free, more safe, and hopefully for the world to be more just," Ross said, in accepting her award. "It feels legendary to have intentionally inhabited the self-hood of Rainbow Johnson—not just her motherhood, or her job-hood, and her wife-hood, but the fullness of a woman thriving with all of those parts… Let the space Bow leaves be an invitation for the creation of more Black women-centered stories that reflect the truth and diversity of who we are in the world."
Gad drew laughs from the crowd with his speech. "The reason I am even here is because once upon a time, I saw a movie called Aladdin and there was this little character named the Genie that inspired me to want to, one day, dare to dream of creating a character as memorable, funny, and beloved. I failed," admitted Gad, the voice of Frozen's unforgettable snowman, Olaf. "But to now, 30 years later, share this incredible honor with my idol and late friend Robin Williams is a gift my 10-year-old self never could have imagined."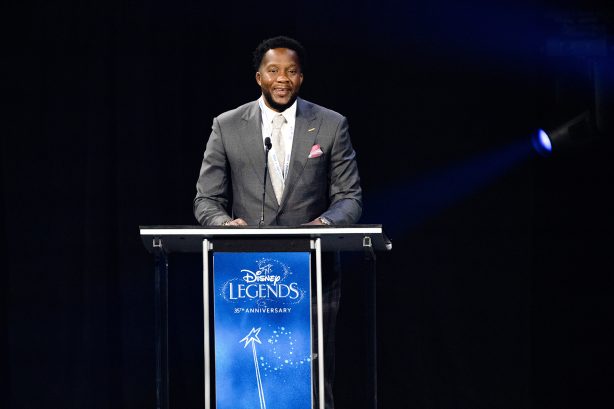 In accepting the award on behalf of his late brother, Chadwick, Derrick Boseman explained how much the honor meant to him and the entire Boseman family. "As I think about my brother and this [award] being bestowed upon him, first of all, I wish that he was here to receive it," he said. "But as I think about him, I think about how he honored our parents, how he honored his family, how he honored even his friends. He honored them with his blood, his sweat, and his tears… Chadwick was an amazing person, and him being honored today is no surprise to me."
"Congratulations to our newest Disney Legends," exclaimed Hall, "and all of our Disney Legends of the first 100 years! You heard of each of their speeches about how Disney touched their lives… and now here they are, living Legends amongst us. So, thank you."