Disney Legend Regis Philbin passed away from natural causes on Friday, July 24, his family shared. The Emmy® Award-winning morning show host, who was also beloved for hosting ABC's Who Wants to Be a Millionaire, was just one month shy of his 89th birthday.
"Regis was a very special part of our Disney family for over a half century and we will miss him deeply," said Disney CEO Bob Chapek. "He was an amazing person, consummate entertainer, TV icon, and a true Disney Legend. Our heartfelt condolences to Joy and the entire Philbin family."
"We are heartbroken to hear that a longtime colleague and friend, Regis Philbin, passed away at the age of 88," said Disney Executive Chairman Bob Iger. "Regis graced us with warmth, humor, and self-deprecating wit, always bringing happiness to us all. Our hearts go out to Joy and to his family. Rest in Peace, Regis."
"Our hearts are broken to learn the news about Regis' passing," The "Live" Family said in a statement. "Regis originated "Live" as a local New York broadcast back in 1983, and for more than 27 years he poured his heart and soul into the show. Many of the members of our staff began their careers at "Live" with Regis and were lucky enough to learn from a master broadcaster. Our hearts go out to Joy and his family."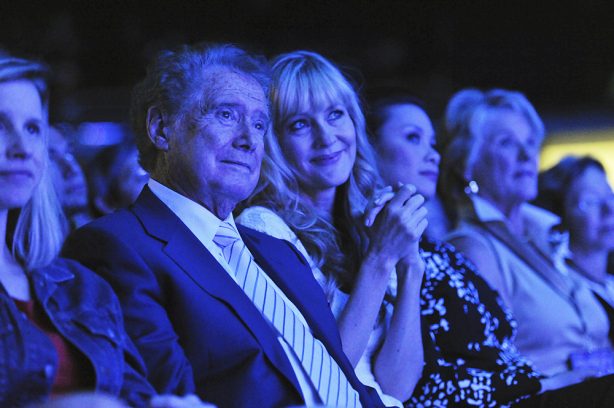 "Regis was a great broadcaster, a good friend, and a tremendous amount of fun," Jimmy Kimmel said in a post on Twitter. "He leaves behind a beautiful family and a TV legacy that will likely go unmatched. Regis, I hope our friend [Don] Rickles met you at the pearly gates with open arms and a slew of the insults you loved so much."
Born on August 25, 1931, Regis, a native New Yorker, graduated from University of Notre Dame in 1953 with a degree in sociology. After serving in the Navy, he began a standard apprenticeship in television: page, stagehand, sports newswriter, and substitute anchor. Regis first tasted fame on ABC's The Joey Bishop Show from 1967 to 1969 and would go on to co-host the KABC-TV's local morning talk show A.M. Los Angeles before moving back east to take over WABC-TV's The Morning Show. There, he eventually paired up with Kathie Lee Gifford, and in 1988, Buena Vista Television picked the show up for national syndication and re-titled it Live with Regis and Kathie Lee, a name that lasted until Gifford departed in 2000. In 2001, Regis won a Daytime Emmy® Award for Outstanding Talk Show Host, and Kelly Ripa joined him at the morning show. The pair spent a decade together until Regis departed the show in 2011.
Regis honed his off-the-cuff interviewing skills on ABC's 1975 game show Almost Anything Goes, an uninhibited outdoor free-for-all on the field as contestants competed in stunts like carrying a loaf of bread while sliding across a greased pole suspended over a pool of water. And in 1999 Regis almost singlehandedly popularized catch phrases like "Is that your final answer?" on ABC's Who Wants to Be a Millionaire, for which also took home the Emmy for Outstanding Game Show Host in 2001.
For Disney's Hyperion publishing arm, he wrote Who Wants to Be Me? and co-authored two cookbooks with Kathie Lee Gifford.
Regis hosted the Disney Christmas Parade specials more than a dozen times and appeared in several guest appearances on Kelly Ripa's ABC series Hope & Faith, as car salesman Handsome Hal Halverson. He received a star on the Hollywood Walk of Fame in 2003, and in 2008 received a Lifetime Achievement Award at the Daytime Emmys.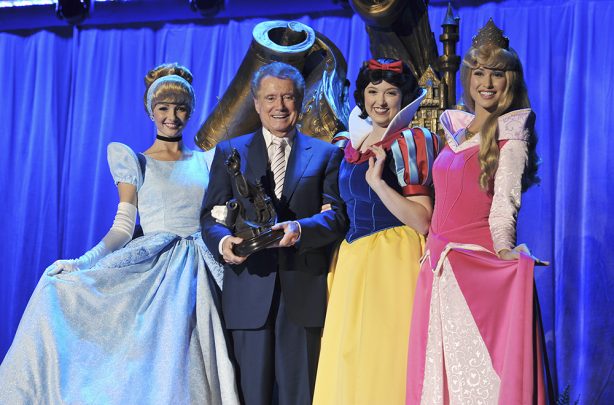 In 2011 Regis was inducted as a Disney Legend at D23 Expo.
Regis is survived by daughters J.J. Philbin and Joanna Philbin, whom he shared with his wife of 50 years, Joy Philbin, as well as daughter Amy Philbin, from his first marriage, and grandchildren.
Read Regis' complete Disney Legends bio here.