Disney Junior's The Lion Guard, premiering tomorrow on Disney Channel at 9:30 a.m. ET/PT, continues the epic storytelling of Walt Disney Animation Studios' classic feature The Lion King in a new series designed for kids age 2–7. The series was introduced in a Disney Channel movie, The Lion Guard: Return of the Roar; its November 22 debut was the No. 1 primetime cable TV telecast of 2015 among Kids 2–5 and the No. 1 animated telecast across kid cable-TV networks among Total Viewers and Adults 18–49.
In the exclusive Q&A below, Disney Junior's Executive Vice President of Original Programming and General Manager Nancy Kanter and The Lion Guard's executive producer, Ford Riley, talk about bringing this franchise to a new generation and about Disney Junior's role in introducing children to Disney storytelling.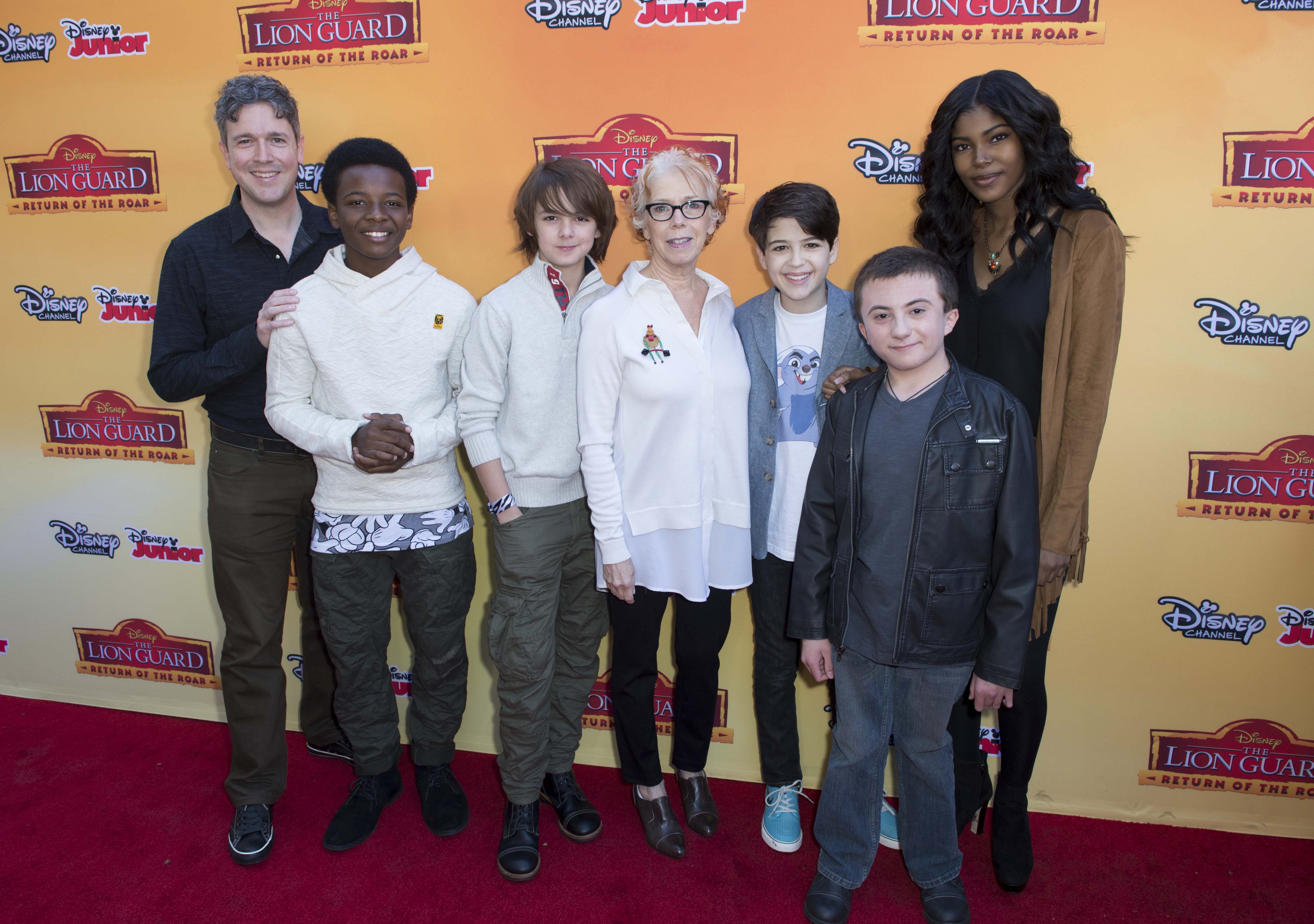 Q: The Lion King resonates with so many people. What do you think has given the film such an enduring legacy?
Ford Riley: The Lion King is such an amazing property and it resonates with everybody, no matter of age, no matter of ethnicity—no matter where you are in the world. It's all based on these emotions and these relationships. It transcends all these other things and feels real and relevant, even today.
Nancy Kanter: The film touches such an emotional chord between parents and children and that circle of life. It was a way to talk about important, sometimes hard-to-discuss things with kids, and yet put it into a framework that made it accessible for children without being terrifying. As we were approaching the 20th and 25th anniversary of The Lion King, the question was posed that this has become such an iconic movie for the Company—should we be thinking about what comes next? And Ford came up with the perfect way to extend the story.
Q: How did you approach reimagining the film for a new generation and for the Disney Junior audience?
Ford Riley: The very first thing that I was told is, like Jake and the Never Land Pirates, this Lion King extension has to stand on its own. Don't even think about all the heritage characters. I pitched a show that was within the world of The Lion King, but with all new characters.
Nancy Kanter: We felt so strongly about the foundation and the concept, and once we knew that we had something that could stand on its own, we thought, "OK, we have the freedom now to bring these original characters back in." We needed that solid base and now it can work just a little bit better by bringing those characters back in, having those touch points and those references to the original. I think the feeling was that [by focusing on those original characters] we would have been so swept away in that direction and not come up with something as original.
Q: Are there both opportunities and inherent challenges that come with working with such an iconic Disney property?
Ford Riley: There's a lot of responsibility. There are a lot of people who love this property so much, and you don't want to do anything to spoil that. We want people to embrace the next generation. We're not going to be judged by what else is on Disney Junior, necessarily—we're going to be judged by how we hold up against this classic feature that everybody loves. The bar was really, really raised.
Q: Disney has had great success bringing other heritage properties to Disney Channels Worldwide, as reflected by the Emmy®-winning Mickey Mouse shorts on Disney Channel and The 7D on Disney XD. Why was Disney Junior the logical home for a continuation of The Lion King?
Nancy Kanter: I like to think it's because we've earned the trust of the Company in terms of how we've been able to take heritage properties and heritage characters and reimagine them for today's audience while still keeping the integrity and the honesty to the original materials. We have a great trust among families, especially families with young kids—they believe in us.
Ford Riley: From a creative standpoint, it made a lot of sense because the kids who grew up with the original theatrical film are now parents and have kids of their own. In telling the story of the next generation of The Lion King, we've now positioned the heroes, Simba and Nala, as parents and tell the story of these new kids. A lot of parenting bloggers have talked to me about it—the fact that Simba and Nala now have kids of their own seems both relevant to the parents watching and the kids. I think that's what Disney Junior is all about—pulling families together.
Q: How do you strike a balance between bringing beloved Disney properties to a new generation and introducing original characters, like Doc McStuffins or Miles from Tomorrowland?
Nancy Kanter: When we rebranded and became Disney Junior after being Playhouse Disney, we definitely made a decision that we wanted to have more content that immediately reflected Disney, whether that was a heritage character like Mickey Mouse or that had some touch point. When Miles from Tomorrowland was originally pitched it was pitched as Miles Away. And we said, "Is there an opportunity?" Maybe we can just tangentially, gently reference Tomorrowland, which is a very iconic element of Disney, and then it feels like it comes from Disney. I think we've been able to create a really clear brand identity that is this mixture of the heritage and the new.
Q: Nancy, can you define how you see Disney Junior's role within The Walt Disney Company?
Nancy Kanter: I feel like we're here to be the introduction to the stories, the world, the ethos of Disney. What are we about? That sense of storytelling and heart and emotion that you come to understand as you move through Disney's content in all the different ways.