When you think Disney Junior, which every parent in America with a toddler is bound to do from time to time, you think of great, educational programming like Sofia the First, Jake and the Never Land Pirates and Doc McStuffins—true favorites among the 2-to-5-year-old set. But what might elude moms and dads, who have become just as big fans of these hit shows, is how the network and its content are on the cutting edge of digital media technology.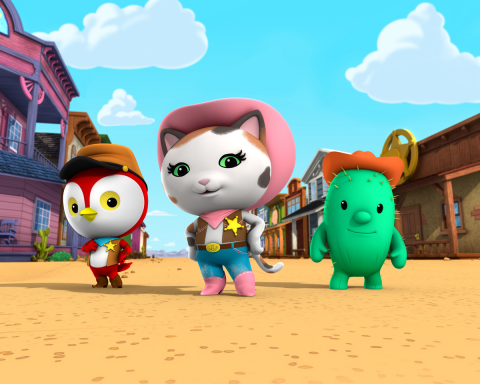 Now with Sheriff Callie's Wild West—Disney Junior's latest animated show starring Mandy Moore as the lovable title character—we're seeing the newest trend in how audiences are consuming content with the WATCH Disney Junior app. For the first time, the network introduced a series on the app before its broadcast debut on Monday, January 20.
With the show set for its television premiere in just a couple of days, I sat down with Disney Junior Executive Vice President, Original Programming and General Manager Nancy Kanter and Disney/ABC Television Group Digital Media Executive Vice President and Chief Product Officer Albert Cheng to talk about the well-received new show and how this digital platform is changing the face of programming.
Can you introduce us to the show and tell us about the development process?
Nancy Kanter (NK): George Evelyn and Dennis Morella, the creators of Higglytown Heroes, pitched the concept for Sheriff Callie's Wild West to us almost six years ago, and it's really been a labor of love since then. The duo brought in the idea of a pre-school western with a cast of non-human characters. We liked the idea and thought, "Wow, no one has really done a pre-school western before." There have been several iterations of western stories in movies and in television, especially at Disney with Davy Crockett. With that in mind, we felt that Sheriff Callie's Wild West was unique and could really tie in with Disney's heritage of western folklore.
Have you seen a trend of launching content on the WATCH apps first, and then viewers gravitating to the programs when they debut on TV? What's so unique and special about WATCH Disney Junior?
Albert Cheng (AC): We have generally seen an upward trend when we debut programs on the WATCH apps; they generate the buzz to drive great linear ratings. This Disney Junior experiment is a first for us in terms of launching several episodes at once. Also, the unique part about WATCH Disney Junior is the commentary it portrays about kids, ages 2–5, looking at the iPad as their first screen. Tablets are quickly becoming their new TVs.
There's such a big community of parents online these days. How did that steer your decision into launching Callie on the WATCH Disney Junior app?
NK: Our research points to moms with young families being some of the biggest users of social media and consumers of digital content, in general. We can't afford to not pay attention to this trend.
This is the first show that Disney Junior launched via the WATCH Disney Junior app. Can you tell us about that experience and what it was like to collaborate with the digital team?
NK: This is the first time at Disney that a full season arc has launched first on a WATCH app first, versus the linear network, and we are excited to break new ground. Working with the digital team was terrific and we proposed this idea because we were consistently seeing how strong the video views were on the WATCH Disney Junior app. From that point, everybody really rose to the occasion! It really was a 360-degree strategy to make sure that the launch was as successful as it could be.
Sheriff Callie's Wild West was the first Disney program to debut on a WATCH app. Can you talk to us about that strategy and working with Disney Junior to make the idea come to life?
AC: The Disney Junior team is very in tune with their audience. And we're also very in tune with how our audiences engage with technology. The collaboration was a very simple one, because at the end, we knew that putting the show on this platform was going to be really great for our viewers, but also for our business at the end of the day.